Con-Vey Promotes Joe Buck To Product Manager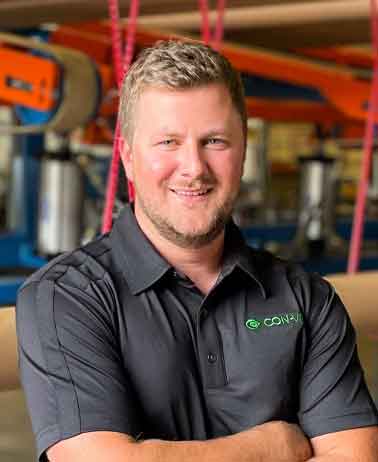 Con-Vey has announced the promotion of Joe Buck from Sales Engineer to Product Manager, having been with the company for nearly four years.
In his new role, Buck will lead the strategy development and execution of several products at Con-Vey, including particle board, MDF, and lumber, and will be working closely with the engineering, sales, and marketing teams. Buck's extensive experience in both sales and engineering makes him especially qualified to drive the growth and success of these product lines for Con-Vey.
Dave Larecy, CEO of Con-Vey, comments, "Joe has been a valuable member of our team these last few years, and we're excited to see him take on this new role. His expertise and dedication to our customers make him the perfect fit for Product Manager, and we're confident he will excel in this position."
Jeremy Goebel, Vice President at Con-Vey, also shared his excitement about Buck's promotion: "Joe is an extremely dedicated professional who has been an instrumental part of our sales team, and I'm thrilled to see him transition to Product Manager. His deep understanding of our customers' needs along with his technical expertise will be invaluable in driving our product strategy forward."
Raute Corp. has signed a contract worth 93 million Euros with Metsä Wood, part of Metsä Group, for the technology delivery of a new Kerto laminated veneer lumber (LVL) mill in Äänekoski, Finland. This order, the…
Georgia-Pacific, along with partners The Georgia Forestry Foundation and Jamestown LP, met with state and local leadership to discuss how prioritizing and utilizing sustainable structural…
In addition to announced keynotes, PELICE continues to add speakers and presentations for the numerous technical sessions on tap. The full PELICE agenda is expected to be announced later this month…
The monthly Panel World Industry Newsletter reaches over 3,000 who represent primary panel production operations.
Panel World is delivered six times per year to North American and international professionals, who represent primary panel production operations. Subscriptions are FREE to qualified individuals.
Complete the online form so we can direct you to the appropriate Sales Representative. Contact us today!