Con-Vey Promotes Joe Buck To Product Manager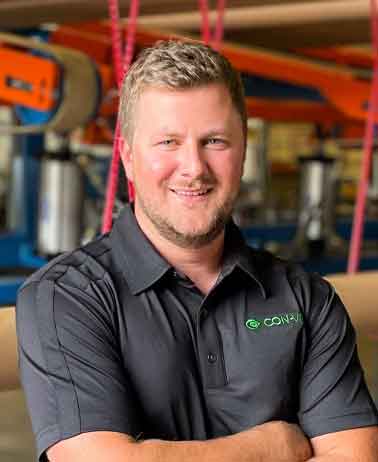 Con-Vey has announced the promotion of Joe Buck from Sales Engineer to Product Manager, having been with the company for nearly four years.
In his new role, Buck will lead the strategy development and execution of several products at Con-Vey, including particle board, MDF, and lumber, and will be working closely with the engineering, sales, and marketing teams. Buck's extensive experience in both sales and engineering makes him especially qualified to drive the growth and success of these product lines for Con-Vey.
Dave Larecy, CEO of Con-Vey, comments, "Joe has been a valuable member of our team these last few years, and we're excited to see him take on this new role. His expertise and dedication to our customers make him the perfect fit for Product Manager, and we're confident he will excel in this position."
Jeremy Goebel, Vice President at Con-Vey, also shared his excitement about Buck's promotion: "Joe is an extremely dedicated professional who has been an instrumental part of our sales team, and I'm thrilled to see him transition to Product Manager. His deep understanding of our customers' needs along with his technical expertise will be invaluable in driving our product strategy forward."
Egger Wood Products has announced the start of production on a third lamination line at its Lexington, N.C. facility. The $21 million investment will expand the company's thermally fused laminate (TFL) production capacity by 50%, increasing production to more than 155 million sq. ft. per…
As a globally operating supplier of burners as well as drying and energy plants, Büttner—a member of the Siempelkamp Group—is taking the next logical step by establishing a new environmental technology competence center in Kaiserslautern, Germany, and expanding its product range in the field of environmental…
Tolko Industries Ltd. has commissioned Dieffenbacher to supply the core components of a new OSB line at High Prairie, Alberta, Can. On May 20, 2022, a fire in the press building damaged beyond repair a Dieffenbacher 12-opening press, which Tolko had commissioned in 1995, and much of the surrounding…
The monthly Panel World Industry Newsletter reaches over 3,000 who represent primary panel production operations.
Panel World is delivered six times per year to North American and international professionals, who represent primary panel production operations. Subscriptions are FREE to qualified individuals.
Complete the online form so we can direct you to the appropriate Sales Representative. Contact us today!