TIME IS FREE BUT IT'S PRICELESS
Article by Rich Donnell, Editor-in-Chief, Panel World May 2021
RoyOMartin supplied a short article in this issue on its 25th anniversary celebration since the startup of its softwood plywood mill in Chopin, La. The mill produced its first press load in March 1996 and yours truly visited the mill and wrote the cover story that appeared in the November 1996 issue of Panel World. Jonathan Martin, who passed away in September 2019, walked me through the plant that day.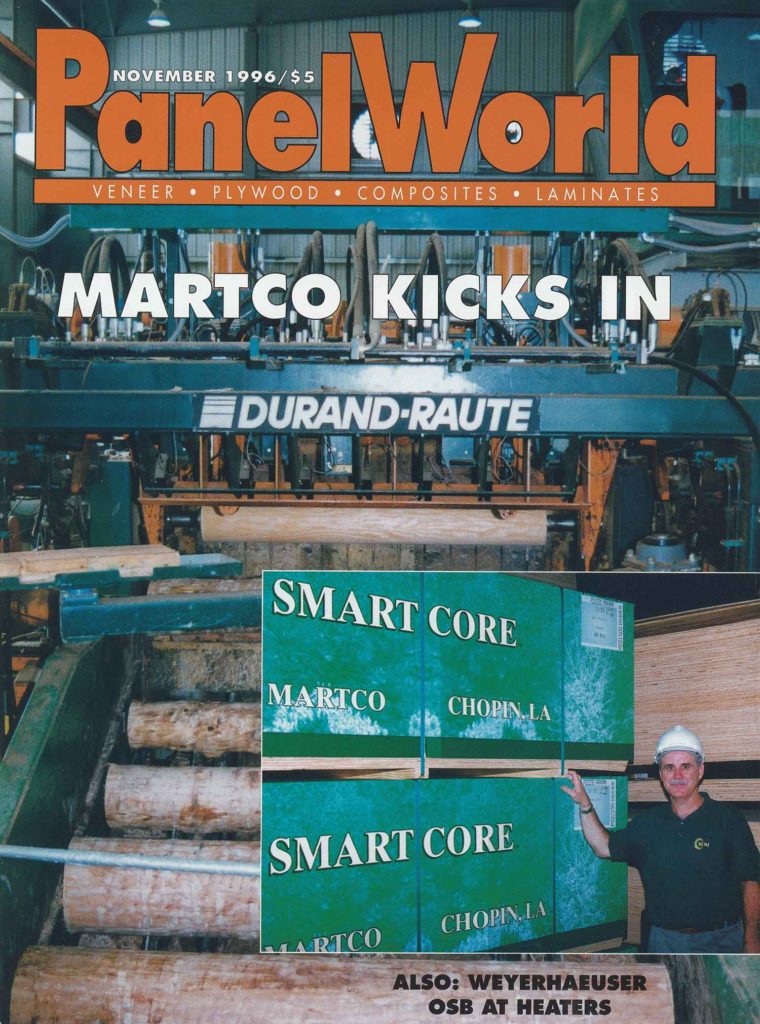 I remember that Martin was jovial as he showed off the new mill, and why not? Greenfield softwood plywood plants were rare indeed (and still are) and the newness of everything there made it a can't miss opportunity for the two Nikon cameras and Sunpak flashes that dangled around my neck. Why two? One for the black & white film, one for the color film. Indeed the photos and article turned out well, in looking back at that November issue. But what also struck me was all that was going on in the pages of our magazine 25 years ago.
The Martco story carried the cover, but inside the same issue was an article a staffer had written on the new Weyerhaeuser OSB mill in Heaters, W. Va., which had started up that August, processing mostly low grade hardwoods. The mill ran a 12×24 ft. Washington Iron Works press.
That issue of Panel World also had a story on the new OSB mill built by Norbord Industries at La Sarre, Quebec, this one with a Siempelkamp multi-opening press.
Here are some other developments that showed up in the issue. If you're at least 50 years old today, they may jog your memory:
APA held its 60th annual meeting in Orlando, Fla., with a lot of discussion about the path to quality.
Forest Service agents raided a blockade put up by preservationists in the Willamette National Forest.
Temple-Inland announced it would build a cement fiberboard plant near Dallas/Fort Worth.
Plum Creek announced the purchase of 538,000 acres, a sawmill and a plywood mill at Joyce, La. from Riverwood International.
Sunpine Forest Products and Dieffenbacher announced they would construct a continuous microwave LVL press line.
Eagle Forest Products in Miramichi, New Brunswick, Can. produced its first OSB panel.
Kenneth Ford, founder of Roseburg Forest Products, at age 88 received the Harry A. Merlo Award administered by the World Forestry Center in Portland, Ore. The presenter was Harry himself.
Some of the advertisers in that issue, such as Durand- Raute, Electronic Wood Systems, Con-Vey and Texpan, are advertising in the issue in your hands.
And, 10 people listed in our magazine staff box are still working hard for us today.
So maybe 25 years ago isn't really that long.
P.S. The headline for this column is a quote of author Harvey MacKay.
RELATED ARTICLES
MARTCO ANNOUNCES CORRIGAN "TWO"
ROYOMARTIN ADDS PRODUCTION LINE IN CORRIGAN
HAPPY 25TH BIRTHDAY CHOPIN PLYWOOD
ROY MARTIN III PAINTS REFRESHING, POSITIVE PICTURE
Brad Thorlakson, President and CEO of Tolko Industries, has announced that Pino Pucci, Vice President of Sales, Marketing and Logistics will assume a newly created interim role as Tolko's Chief Operating Officer. "This role has been created to support our succession planning process, as Pino will eventually succeed me as President & CEO," Thorlakson says. "Pino's proven leadership experience, significant focus on people and culture, and his alignment with our values make him the perfect…
The RoyOMartin University (ROM-U) program identifies emerging leaders and develops their potential to ensure that the company maintains a pipeline of leaders prepared to take the next step in their careers. Recently, Louisana-based RoyOMartin recognized Luke Briley, dry end manager, RoyOMartin-Plywood; Brett Danzy, mechanical maintenance superintendent, RoyOMartin-Plywood; Jermaine Davis, corporate purchasing coordinator, corporate office); and…
The Corrigan Volunteer Fire Department, which has close to 25 active volunteers and answered more than 150 emergency calls in 2022, has kicked off a capital campaign to build a new fire station, which will cost $400,000. In support of this campaign, and in recognition of the three major facilities Georgia-Pacific operates (and the 1,000 people employed) in Polk County, Texas, the company has donated $100,000 to the effort…
The monthly Panel World Industry Newsletter reaches over 3,000 who represent primary panel production operations.
Panel World is delivered six times per year to North American and international professionals, who represent primary panel production operations. Subscriptions are FREE to qualified individuals.
Complete the online form so we can direct you to the appropriate Sales Representative. Contact us today!