Happy 25th Birthday Chopin Plywood
RoyOMartin commemorated 25 years of operations at its plywood manufacturing facility in Chopin, La. with a ceremony featuring a look back at the beginning stages of the plant and the impact it has had on the company and community since its inception.
Construction began in August 1994 on the Natchitoches Parish mill, which continues to be one of the largest of its kind in North America. Its first press load of southern yellow pine plywood panels was produced on March 8, 1996. The mill was the cover story for the November 1996 issue of Panel World.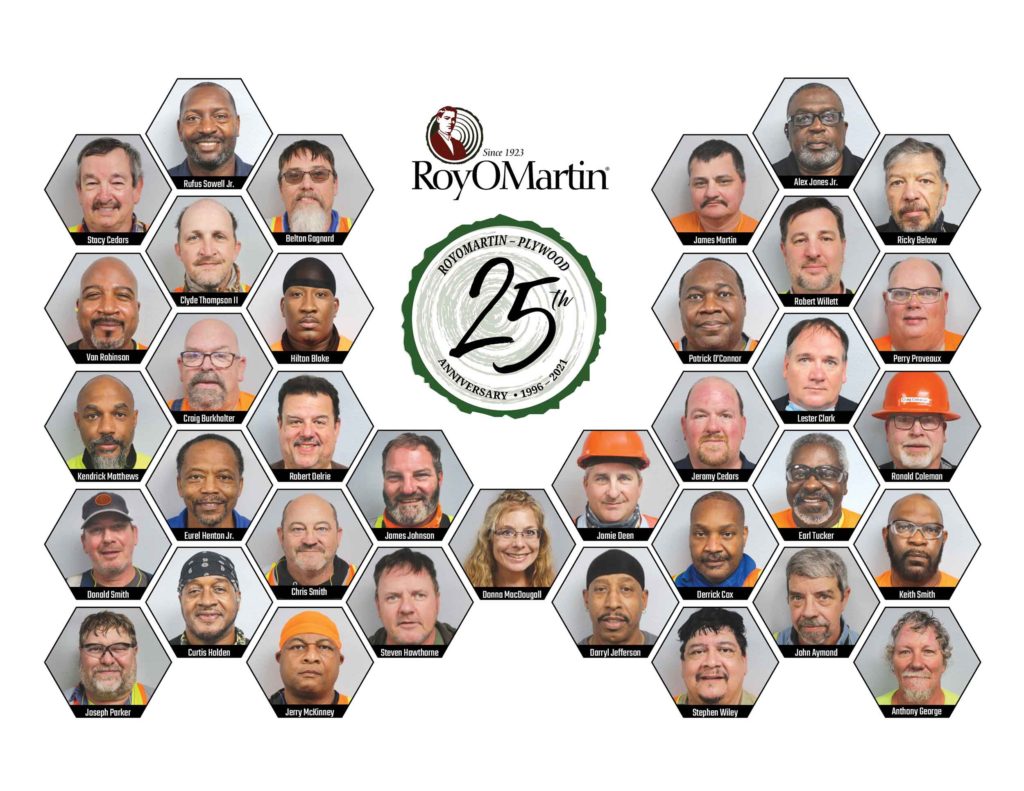 Actually then president, the late Johnny Martin had drawn up a new pine sawmill to take advantage of the company's substantial pine timberland coming of age, but the more Martin and his team looked at the situation, the clearer it became that a softwood plywood plant was the answer. "We felt in the long term that plywood had some inherent advantages over solid wood, mainly from a wood utilization standpoint," Martin told Panel World in 1996. The plant itself at startup boasted a little more than 400,000 sq. ft. of manufacturing space. "We really wanted to put forth a first class facility," Martin said.
In the past 25 years, employment has more than doubled, leading to a substantial economic impact on the region.
The 24/7 operation manufactures a variety of SmartCore branded plywood panels, as well as timbers, boards, and specialty products—all sold throughout the U.S. and, in some cases, around the world.
"We didn't want to build a plant that made rated sheathing like everybody else," stated Chairman, CEO and CFO Roy O. Martin III. "We decided, way back then, we were going to build a state-of-the-art finishing end to make the kind of products that are built to last. We started with one lathe and 330 people. Now we have two lathes, 720 people, a timber mill, and a forestry office. That's some growth."
Thirty-five current employees from the original startup team were honored for their 25 years of service to the company. COO E. Scott Poole commented, "We may have added equipment through the years, but none of that makes this history worth celebrating until we add the dedication of the men and women who have stood through the good and not-so-good times. We are the best because of them."
Also honored at the event was Joe Mackay, who served as vice president of plywood for nearly 20 years. "Joe has made an invaluable impact on the organization," said Martin as he presented Mackay with the Leadership Award. "He is a true industry leader."
Regarding the anniversary, Vice President of Plywood Jeremy Burford stated, "What we are most proud of is our reputation in the wood products industry for taking care of our people through world-class safety and wellness programming, unmatched employee benefits, and our self-directed advancement program. The entire plywood team continues to demonstrate its commitment to working safely, operating at top efficiency, and satisfying customers every single day."
RELATED ARTICLES
MARTCO ANNOUNCES CORRIGAN "TWO"
ROYOMARTIN ADDS PRODUCTION LINE IN CORRIGAN
TIME IS FREE BUT IT'S PRICELESS
ROY MARTIN III PAINTS REFRESHING, POSITIVE PICTURE
Brad Thorlakson, President and CEO of Tolko Industries, has announced that Pino Pucci, Vice President of Sales, Marketing and Logistics will assume a newly created interim role as Tolko's Chief Operating Officer. "This role has been created to support our succession planning process, as Pino will eventually succeed me as President & CEO," Thorlakson says. "Pino's proven leadership experience, significant focus on people and culture, and his alignment with our values make him the perfect…
The monthly Panel World Industry Newsletter reaches over 3,000 who represent primary panel production operations.
Panel World is delivered six times per year to North American and international professionals, who represent primary panel production operations. Subscriptions are FREE to qualified individuals.
Complete the online form so we can direct you to the appropriate Sales Representative. Contact us today!