Martco Tows Dryer Into Place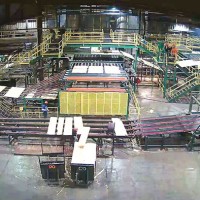 In December, RoyOMartin towed into place its second fully erect 6-deck jet dryer. Just a year prior, Martco pioneered the concept of fully erecting a million pound dryer and pulling it into place as the most effective means to minimize dryer outage. The duration of dryer outage was essentially reduced from 16 weeks to about three weeks or less.
The first dryer was towed from the outfeed end while the second dryer was towed from the infeed end, confirming the USNR dryer can be pulled from either end.
The accompanying photo was taken just four days after startup, from a time lapse camera that had recorded the dryer erection. Martco's first 6-deck USNR dryer is located to the right and the latest dryer is in the center of the photo. When the photo was taken, each dryer was processing 45 sheets per minute (1/6 SYP, 110% average moisture) for a combined output of 90 sheets per minute for both dryers.
Each of Martco's new dryers has the equivalent drying capacity of two Coe 4-deck 24-section Model 72 dryers. In terms of total production, the two new USNR dryers dry more veneer volume than four equivalent length 4-deck jet dryers, basically halving the labor cost to dry veneer, according to the participants.
Veneer exiting the new dryers is confirmed to have uniform moisture content, lay flat, and remain supple; all common expectations of a well-balanced, thermally efficient dryer. Improved veneer quality not only reduces inadvertent degrade and waste, but also improves the rest of the plywood manufacturing process.
With the exception of the dryer roll conveyor (one is right hand, one is left hand), both dryers are identically equipped with the following:
Six deck, 144 ft. heated length
Special 3/16's all stainless floating floor
Unique expansion rollers
Special pivoting and safe door hardware
Patented Automatic Dryer Exhaust Controls and balanced cooling
Extreme efficiency hot oil heaters
Pressurized fan shaft seals
USNR also announces that Richmond Plywood will install a similar dryer late this summer. This new dryer will be nearly identical to Martco's with the exception that it will be 120 ft. of heated length, and steam heated.
USNR will give a presentation on new dryer technology at the upcoming PELICE show in Atlanta March 20-21 and will participate with its dryer technology in the veneer-based manufacturing workshop.
(Article submitted by USNR. Visit usnr.com)