Ellis Martin Led Family Business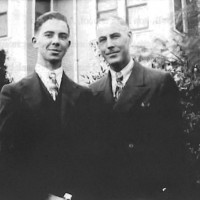 Ellis Spencer Martin, one of the family members responsible for the growth of Roy O. Martin Lumber and Martin Timber Co., died October 18 in Alexandria, La. He was 96.
The eldest son of Louisiana lumber pioneer, Roy O. Martin, Sr., Ellis graduated from Bolton High School and attended LSU in Baton Rouge for two years. He then began a lifelong, successful career in the lumber business. He was trained at an early age by his father in the lumber manufacturing and selling process. He once said, "No child had better training, and I tried to succeed in everything he gave me to do."
He was 19 when his father sent him to manage Martin Timber Co. in Castor, La. (he had been there earlier as a high school student to help build the mill). The sawmill operation was one of many mills to answer the desperate call for lumber upon the outbreak of World War II.
Ellis was president of Martin Timber Co. until 1974, when he and his wife moved from Ringgold, La. (where they raised their five children) to Pineville, La. In 1978 he became president of Roy O. Martin Lumber Co., and later chairman and CEO, until his retirement in 2004.
Under his leadership in the family's wood-products manufacturing business were Martin Timber Co. in Castor; Colfax Treating Company in Pineville; Dura-Wood Treating Company in Alexandria,; and Martco Limited Partnership oriented strandboard plant and hardwood sawmill in LeMoyen, La., and plywood plant in Chopin, La. In addition, Ellis led the oil-and-gas, forestry, and real-estate departments, in addition to lumber retail centers throughout Louisiana.
Martin's business sense and leadership brought the company far beyond where his father, Roy O. Martin, Sr., had ever envisioned. He was visionary, focused on specific goals for the company, and had keen business instincts. This second-generation lumberman set a very solid foundation for the third generation, which now manages all of the RoyOMartin entities.
He was predeceased by his wife and mother of his children, Virginia Slaughter Martin; parents, Roy O. Martin, Sr., and Mildred Brown Martin; brother, Roy O. Martin Jr.; and sister, Virginia Martin Howard.
He is survived by his five children: David S. Martin (Phyllis) of Shreveport; Bonnie Martin Nelson of Sacramento, Calif.; Susan Martin Potter (Charles) of Texarkana, Texas; Jonathan E. Martin (Maggie) of Alexandria; and Mary Martin Fowler (Randy) of Woodworth, La.; along with nine grandchildren and 20 great-grandchildren; a brother, Norman K. Martin (Lorraine) of Leawood, Kans.; a sister, Esther Martin Floyd of Ann Arbor, Mich.; and numerous nieces and nephews.
Ellis, like his parents, possessed a deep faith and was active in the Baptist Church wherever he lived.
Funerals services were held at First Baptist Church of Pineville on October 22, followed by burial at Greenwood Memorial Park, Pineville.