A Good Quote Is Easy To Find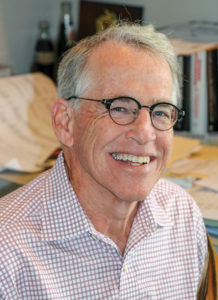 Article by Rich Donnell, Editor-in-Chief, Panel World November 2019
As the year winds down, already, a quick glance back through the pages of Panel World reveals several articles on wood products plants that found new life, and some memorable comments from key players in the industry.
• "I was probably the last guy they called about acquiring the plant. I didn't know anything about particleboard."—Todd Brinkmeyer, owner, Plummer Forest Products, who grew up in sawmills and forestry, on when Potlatch called him about acquiring the particleboard plant in Post Falls, Idaho, which he subsequently did.
• "We're constantly trying to make a better workplace for our employees and they're involved in that process. We want people to slow down, think, and do it safely."—Jedd Smith, environmental and safety manager, Plummer Forest Products, Post Falls, Idaho
• "That's one of the joys of working for a private company—we can be reasonably agile. This is one of those cases where we were reasonably agile."—Greg Johnston, general manager of Strand Board Business, Tolko Industries, on re-starting the OSB plant in High Prairie, Alberta
• "I'd say there's no doubt Hardel is the largest specialty plywood mill in the U.S. We do 8, 9, 10 ft., sanded one or two sides, hardwood, marine, sheathing, you name it—and now customers can get units of MDO and HDO. Where else could a customer get that?"—Emmanouel Pilaris, general manager of Hardel Mutual Plywood, Chehalis, Wash.
• "Every company has principles and visions up on their walls, but the thing with Koch is we do live by them. It becomes a way of life, a way of doing business. It's not all that difficult. A lot of it is basically how your parents tried to raise you."—Clarence Young, vice president and general manager of OSB, Georgia-Pacific, on GP's parent company Koch Industries
• "The challenge process, earning decision rights, the principle of entrepreneurship—I had never been given the leeway to think about business that way. But they're also going to hold you accountable. At the same time you can go out and do some unique things, take some risks. We did a lot of that when we started up this facility."—Tobey Elgin, director of OSB operations, GP, on re-starting the OSB mill in Clarendon County, South Carolina
• "It's not just something we say. We live it. Our entire management team here lives it and I know upper management lives it as well."—Robert Willett, technical manager, Martco Chopin plywood mill, on regularly receiving APA's safety and health award
• "It was depressing to come by this plant every day for the local people. Once we announced it was coming back, there was lots of excitement, and lots and lots of applicants to go through. We've given them the confidence that we're here to stay."—Bryan Little, plant manager, Huber OSB, on re-starting the OSB plant in Spring City, Tenn. following more than six years of downtime
• "We will miss him, but I know that his legacy will live on in the hundreds of lives he has touched so deeply and will endure through the family business that is approaching its 100th anniversary. A tall tree has fallen in our forest products industry."—Roy O. Martin III, president and CEO of RoyOMartin, on the death of his cousin Jonathan E. Martin, chairman of Martin Sustainable Resources
A "Silicon Valley" startup company that intended to redefine the methods of operation of the conventional housing and building construction industry has gone bankrupt and appears to…
The monthly Panel World Industry Newsletter reaches over 3,000 who represent primary panel production operations.
Panel World is delivered six times per year to North American and international professionals, who represent primary panel production operations. Subscriptions are FREE to qualified individuals.
Complete the online form so we can direct you to the appropriate Sales Representative. Contact us today!