Raute PRS R5 Proving Itself
Raute introduced its Panel Repair Station (PRS) R5 the plywood industry in 2020. Soon there will be 13 units operating in North America. Measuring 33 ft. by 26 ft., the R5 is no larger than most manual repair cells. It requires no foundations, meaning it can be up and running within two weeks of delivery.
By pairing accurate machine vision with intelligent analysis software to identify defects and apply the precise amount of filler needed, users of the R5 can expect to achieve repair material savings of up to 20%.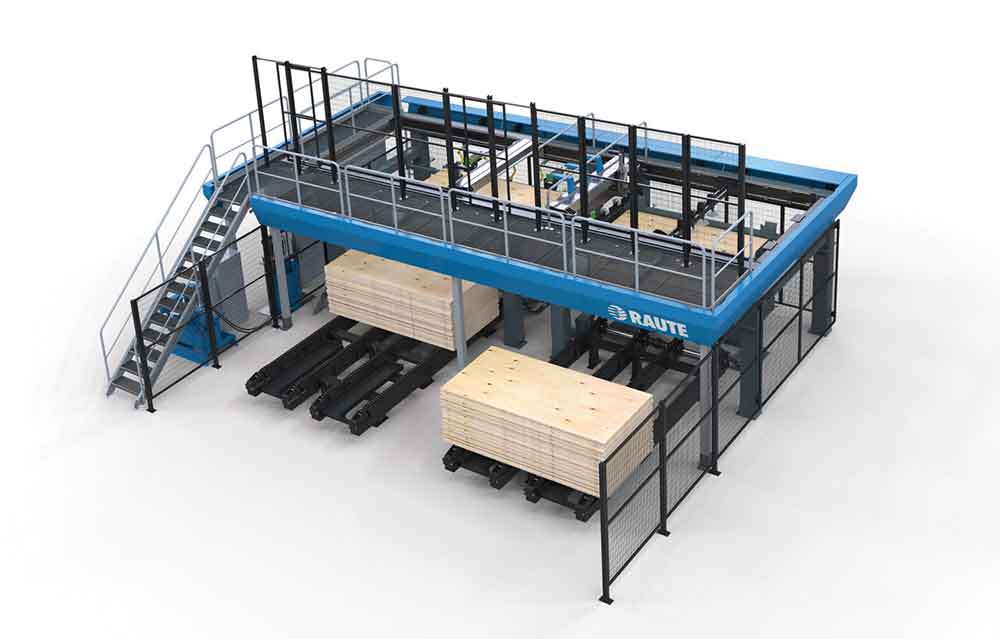 Making up to 300 panel face repairs per hour, the R5 automatically routes and fills the topmost panel—trimmed or untrimmed—in a stack of 100, then moves to the next stack. R5 can be run by a single operator or without any human intervention. Its linear motors have no moving parts, and their bearings are automatically lubricated.
Raute Corp. has signed a contract worth 93 million Euros with Metsä Wood, part of Metsä Group, for the technology delivery of a new Kerto laminated veneer lumber (LVL) mill in Äänekoski, Finland. This order, the…
Georgia-Pacific, along with partners The Georgia Forestry Foundation and Jamestown LP, met with state and local leadership to discuss how prioritizing and utilizing sustainable structural…
In addition to announced keynotes, PELICE continues to add speakers and presentations for the numerous technical sessions on tap. The full PELICE agenda is expected to be announced later this month…
The monthly Panel World Industry Newsletter reaches over 3,000 who represent primary panel production operations.
Panel World is delivered six times per year to North American and international professionals, who represent primary panel production operations. Subscriptions are FREE to qualified individuals.
Complete the online form so we can direct you to the appropriate Sales Representative. Contact us today!