LP Goes With Biele For Manitoba Shake Line
Louisiana Pacific and Biele Group have successfully implemented their first project—a shake profile production line in Swan Valley, Manitoba, Canada. This investment is part of the company's expansion plans for siding products within their LP SmartSide trim and siding brand.
The project consists of a fully automatic shake profile production line that is fed with 8×4 ft. orientated-strand board panels for several post-processing processes to get different sized shakes. The Biele line feeds the mother board and cuts into multiple pieces that will be profiled, painted and packaged according to different recipes.
According to LP's Engineering Project Manager Danaillie Woodfine, "Prior to adding the shake line in Swan Valley, LP had a shake line in Roaring River, North Carolina. Customer demand for the shake product was outpacing the capacity of the Roaring River line. The new line includes more automation and an increased line speed that is capable of twice the production of the Roaring River line. This increase capacity will allow LP to meet future customer demand."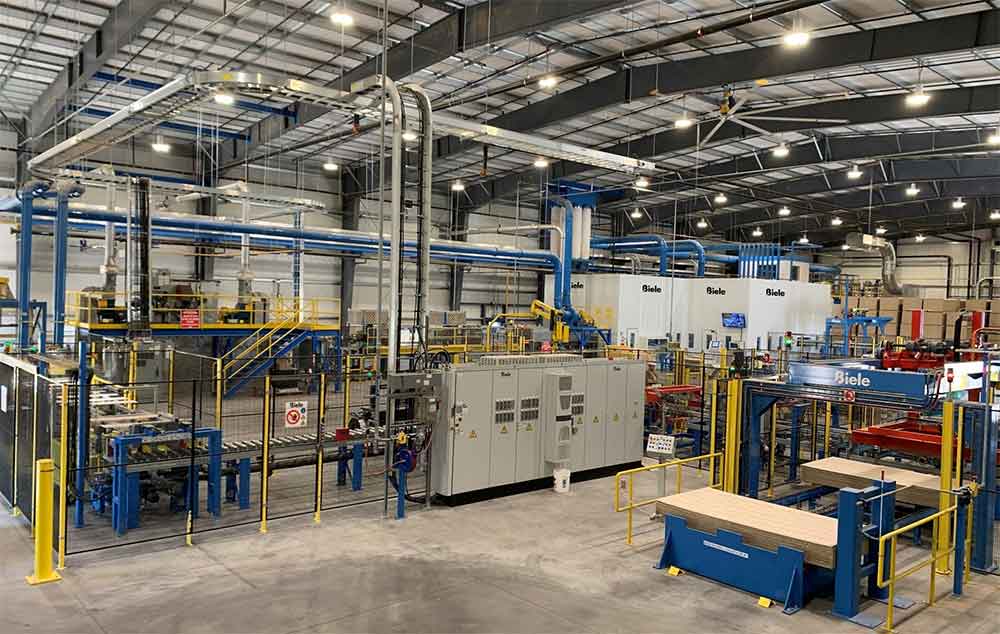 LP Building Solutions (LP) has announced that Libby Berman has been named Vice President, Chief Tax Officer and Bob Hopkins has been named Vice President, Treasurer. "Bob and Libby have been invaluable contributors to the LP team for many years now," says LP Executive Vice President and Chief Financial Officer Alan Haughie…
Con-Vey has announced the promotion of Joe Buck from Sales Engineer to Product Manager, having been with the company for nearly four years. In his new role, Buck will lead the strategy development and execution of several products at Con-Vey, including particle board, MDF, and…
Search North America (SNA), a leading wood products-based search, recruiting, and placement firm, is proud to announce and welcome Dave Rupp as a new Senior Recruiter, mainly focusing on the Western U.S. and Canada. He joins the SNA team with over 40 years of experience in…
The monthly Panel World Industry Newsletter reaches over 3,000 who represent primary panel production operations.
Panel World is delivered six times per year to North American and international professionals, who represent primary panel production operations. Subscriptions are FREE to qualified individuals.
Complete the online form so we can direct you to the appropriate Sales Representative. Contact us today!