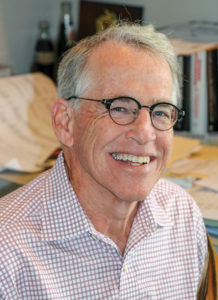 Article by Rich Donnell, Editor-in-Chief, Panel World March 2020 
From the looks of it going in, the Panel & Engineered Lumber International Conference & Expo (PELICE), which is scheduled for March 12-13 at the Omni Hotel at CNN Center in Atlanta, Ga., is offering up its best lineup of speakers and sessions since the inaugural PELICE in 2008. That's saying something, because there have been some good ones.
Take a look at some of the keynote speakers from producer companies from both the structural and non-structural sides of the wood products industry: Ashlee Cribb of Roseburg, Steve Carroll of Arauco, Mark Lindquist of Huber, Bernd Bielfeldt and Luciano Tiburzi of Egger, Terry Secrest of RoyOMartin, Jerry Uhland of CalPlant I. All of these people and their companies have been in recent years or are currently going through some major mill projects. They'll be addressing these projects but also providing insight on the makeup and direction of their companies as we enter the year of perfect vision. If you look at the titles of some of their talks, you see "Growth through Innovation," "Building a Future," "Journey to a World Class Safety Culture."
As always, the PELICE keynote lineup includes somebody who can provide the "big picture" in terms of production, market and economic trends for North America. That would be Frank Goecke of AFRY (formerly Pöyry), whose talk on the second morning of PELICE is entitled: "Dynamics in Wood-Based Panels and Engineered Wood Products—Opportunities and Challenges for the North American Industry."
Breakout sessions on the first day include Handling & Process Technologies, Project Implementation (if you want some insight into project engineering and construction, this is a must), Air Emissions Treatment, Board Scanning Technologies, and Women in Manufacturing. We noticed that last year RoyOMartin held a Women in Manufacturing Day," so we decided to insert the topic in PELICE, and as a result Michelle Driscoll from RoyOMartin and Anna Umphress from Georgia-Pacific will deliver talks on the subject.
One thing that stands out about 2020 PELICE is that the second day sessions are exceptionally strong including: Mass Timber Developments, Fiber Developments, EWP Performance and Process Improvements (those sessions combined include 14 presentations). All of these follow the morning keynote session, which includes three speeches, ranging from markets to adhesives to decorative veneer. The amazing thing is that all of this is concluded by noon. PELICE has always prided itself on packing a lot into what amounts to a day and a half long conference.
As we go into PELICE, impeachment is over, the presidential primaries are upon us, housing starts have ticked upward, and the stock market (as I write this anyway) has been very good.
As you read this you can probably still preregister on the show site: www.pelice-expo.com, and by all means feel free to walk up the day of the conference and register at the PELICE desk in the Omni North Tower Grand Ballroom.
RELATED ARTICLES
PELICE DRAWS POWERFUL SPEAKERS IN ATLANTA
Alan Douglas Brett, who in the latter half of his career led the international advertising sales growth of Panel World magazine, and whose vigorous life included professional motor cycle speedway racing as a young man and a long stint as sales manager with the Daily Telegraph in London, died January…
The monthly Panel World Industry Newsletter reaches over 3,000 who represent primary panel production operations.
Panel World is delivered six times per year to North American and international professionals, who represent primary panel production operations. Subscriptions are FREE to qualified individuals.
Complete the online form so we can direct you to the appropriate Sales Representative. Contact us today!