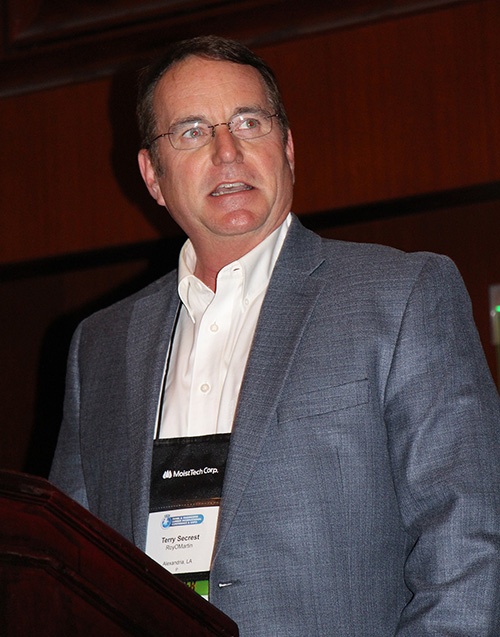 Eighty equipment exhibitors and 34 speakers were on site at the seventh Panel & Engineered Lumber International Conference & Expo held March 12-13 at the Omni Hotel at CNN Center in Atlanta, Georgia. Total on-site attendance, including exhibitor personnel, speakers, producer personnel, consultants and academia, was 287. Fifteen producer companies sent personnel.
The event featured one of its best lineup of keynote speakers ever. Ashlee Cribb, senior VP-Chief Commercial Officer, Roseburg Forest Products, spoke on "Growth through Investment and Innovation." Steve Carroll, VP of Operations for Arauco NA, addressed "Arauco Grayling: Building a Future." Mark Lindquist, VP-Operations for Huber Engineered Woods, spoke on "Huber Engineered Woods Spring City Plant Restart." Terry Secrest, Executive VP of Manufacturing and Product Sales, RoyOMartin, addressed "The RoyOMartin Journey to a World Class Safety Culture." Jerry Uhland, CEO, CalPlantI, spoke on "20 Years, 8 Months and 17 Days, But Who's Counting, the Story of the World's First Rice-Straw Based MDF Plant."
Look for coverage of the event in the May issue of Panel World magazine, which served as the media host of PELICE 2020.