Roseburg Goes For LVL In SC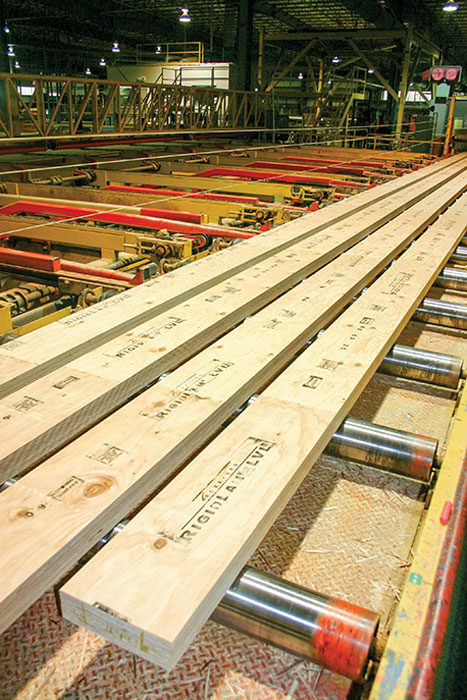 Oregon-based Roseburg Forest Products will expand its operations in the Southeastern U.S. with construction of a new engineered wood products plant in Chester, SC.
"This is an exciting strategic growth opportunity in a business that has done well for us," Roseburg President and CEO Grady Mulbery says. "With the continued increase in housing starts in the Southeastern U.S., we see ongoing demand growth for engineered wood products in the region and elsewhere. We are grateful to state and local officials in Chester for their hard work and collaborative efforts to facilitate this project."
Groundbreaking on the manufacturing facility is expected in early 2018, with anticipated operation startup in mid-2019. Once completed, the plant could create 148 full-time jobs.
"This new plant will be the most technologically advanced manufacturing facility of its kind in the world with the highest capacity continuous LVL (laminated veneer lumber) press in the world," says Steve Killgore, Roseburg Senior Vice President of Solid Wood Business. "Expanding our manufacturing capacity in this way allows us to meet growing customer demand for a versatile product that combines the best of modern processing technology and structural capability."
Roseburg first established its engineered wood products business in 2001 and currently manufactures RFPI joists, RigidLam LVL and RigidRim rimboard at its plant in Riddle, Ore.
A significant percentage of Roseburg's engineered wood customers are located in the Southeastern portion of the country.
Roseburg did extensive research prior to choosing a location for the plant, with criteria including market demand, raw materials availability and cost, and business climate.
RELATED ARTICLES
ROSEBURG TO SHUT DOWN DILLARD P'BOARD
NEW STRATEGIC MARKETING MANAGER FOR ROSEBURG
APA, The Engineered Wood Assn. Board of Trustees has added John Beers III as its newest member. He joins the APA Board of Trustees, filling the position vacated by Andy Konieczka's resignation and move to a new role within Georgia-Pacific. Beers currently serves as the president of the structural panels business at Georgia-Pacific…
J.M. Huber Corp. (Huber) has proudly announced it has been selected as a 2023 U.S. Best Managed Company Gold Standard honoree. Sponsored by Deloitte Private and The Wall Street Journal, the program recognizes outstanding U.S. private companies and the achievements of their management teams. The 2023 designees are U.S. private companies that have…
Article by Rich Donnell, Editor-In-Chief, Panel World May 2023 – In May, I depart for my 17th consecutive Ligna in Hannover, Germany. If the pandemic hadn't canceled the event in 2021, I suppose this would have been 18. Regardless, I'm sure by now you're thinking this guy…
The monthly Panel World Industry Newsletter reaches over 3,000 who represent primary panel production operations.
Panel World is delivered six times per year to North American and international professionals, who represent primary panel production operations. Subscriptions are FREE to qualified individuals.
Complete the online form so we can direct you to the appropriate Sales Representative. Contact us today!