Cover: 'Six-Way Staffing' Could Be The Answer For Your Mill
During a post-pandemic series of site visits and phone interviews, plywood and veneer manufacturing operators articulated the common concern of "We don't have enough people to run the mill on a full schedule." Several expressed surprise and disappointment because experienced employees failed to return, and few job seekers applied. Owners often increased wages and added monetary and non-monetary incentives, but still did not attract enough workers. One concluded, "You know, this younger generation is just different."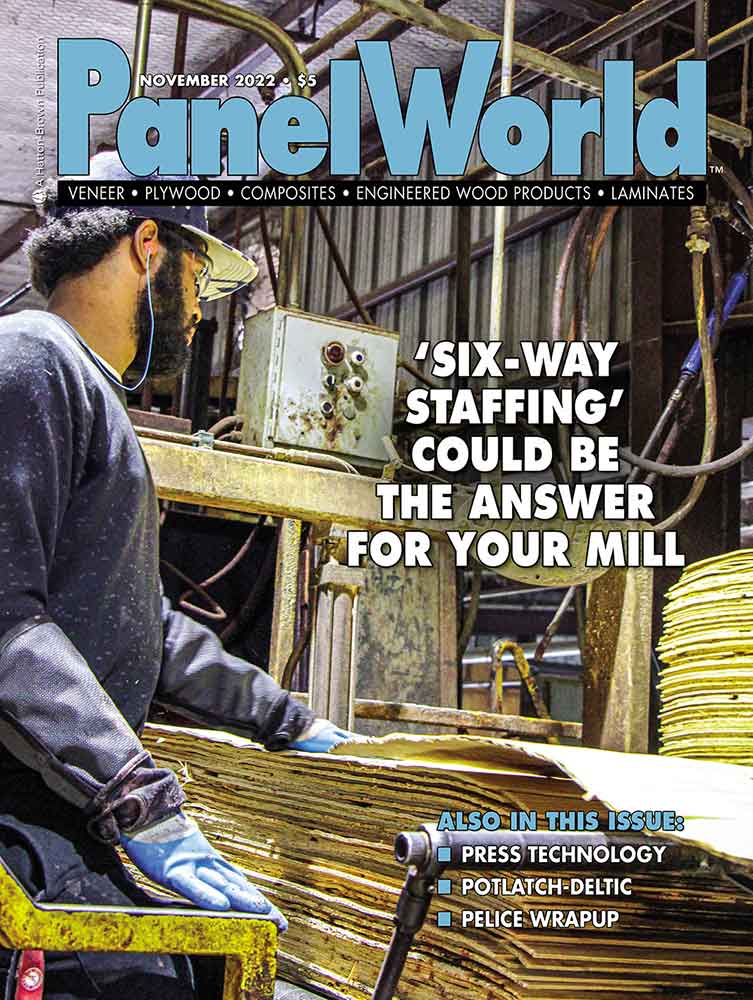 TAKING STOCK: The Panel Industry Moves Ahead
As I glanced through the pages of the six issues of Panel World in 2022, various news developments refreshed my memory, but underlying it all was just the fact that business for the most part was conducted as usual. That we were back to at least fairly normal hit home at the biennial PELICE in March in Atlanta, where the crowd was obviously enthusiastic to be back in the mainstream. Other events throughout the year proved it as well—from annual meetings to trade shows, and also because our editors were being welcomed back into the mills to work up articles.
Article by Rich Donnell, Editor-in-Chief, Panel World
PRESSES
EDITOR'S NOTE: The following companies submitted these editorial profiles and images to complement their advertisements placed in the Panel World November 2022 issue.
DIFFENBACHER
HYMMEN
IPCO
LEDINEK
PAGNONI IMPIANTI
SHERDIL PRECISION
TAIHEI MACHINERY WORKS
USNR
WEMHÖNER
CUSTOM ENGINEERING
PotlatchDeltic Creates Value Through Automation Of Panel Repair
Owner and operator of nearly 2.2 million acres of timberland in seven states, six sawmills, and a plywood mill in St. Maries, Idaho, PotlatchDeltic leadership—in response to the increasing cost of repair chemicals and shortage of skilled labor—began researching ways to optimize their plywood panel repair lines.
Article supplied by Raute and PotlatchDeltic.
All Said And Done: Fifty Speakers Brought Their Expertise To PELICE
PART FOUR: This is the fourth of a four-part series summarizing the presentations delivered during the Panel & Engineered Lumber International Conference & Expo (PELICE) held this spring and hosted by Panel World in Atlanta March 31 to April 1. The first three parts appeared in the May, July and September issues. PELICE 2024 will be held March 14-15, 2024 again at the Omni Hotel at CNN Center in Atlanta.
Panel Industry Percolates At TP&EE In Portland
While traditionally known as a sawmill show, the recent Timber Processing & Energy Expo experienced a healthy turnout from producer companies that also participate in the structural panel and engineered wood products sectors, including the likes of ATCO Wood Products, Boise Cascade, Coastland Wood Industries, Columbia Forest Products, Freres Engineered Wood, Georgia-Pacific, Hood Industries, Hunt Forest Products, Murphy Company, Pacific Veneer, Pacific Wood Laminates, PotlatchDeltic, Rainier Veneer, Rosboro, Roseburg, SmartLam North America, and Weyerhaeuser, to name some of them.
Jeld-Wen Automates With Custom Technologies Provided By Biele Group
Founded in 1960 in the U.S., Jeld-Wen designs, produces and distributes interior and exterior doors, wood, vinyl and aluminum windows, wall systems and other housing components. Currently, the company employs 21,000 worldwide, and has manufacturing, distribution, and showroom locations across the U.S. and in 24 countries mainly in North America, Europe and Australia.
Article provided by Biele Group and Jeld-Wen.
PROJECTS
Ziegler Starts Up WFIB Operations
Grenzebach Receives Flex Board Line Order
Uniboard Commits To CEBPRO Particleboard
Plywood Operations Order Layup Lines
Tafisa Enhances Digital Inspection
Greenlam South Orders Particleboard Plant
Louisiana-Pacific, Biele Collaborate On New Shake Line
Starwood Expands Production Capacity
IWF Wow 'Em In Atlanta
More than 900 exhibitors presented machinery, services and supplies at the International Woodworking Fair (IWF) held August 23-26 in the Georgia World Congress Center in Atlanta, Georgia.
SUPPLY LINES
Siempelkamp Names New Leadership
WMF 2022 Convers Entire Supply Chain
'Six-Way Staffing' Could Be The Answer For Your Mill
During a post-pandemic series of site visits and phone interviews, plywood and veneer manufacturing operators articulated the common concern of "We don't have enough people to run the mill on a full schedule." Several expressed surprise and disappointment because experienced employees failed to return, and few job seekers applied. Owners often increased wages and added monetary and non-monetary incentives, but still did not attract enough workers. One concluded, "You know, this younger generation is just different."
This article, drawing upon practical mill examples as well as academic research, suggests six action steps to mitigate and even resolve the current mill staffing challenges. Each individual step will improve personnel recruiting and retention and, if implemented together, the positive impact will be magnified. While these time-tested techniques are not exhaustive or "one size fits all," hopefully these ideas stimulate creative thinking that directly applies to the local conditions of your operation.
Article by Richard (Dick) Baldwin is managing partner of Oak Creek Investments and a lifelong participant in the veneer and plywood production industry. Rich Baldwin is CFO-Treasurer of Oak Creek Investments with substantial consulting and proposal experience in wood products operations.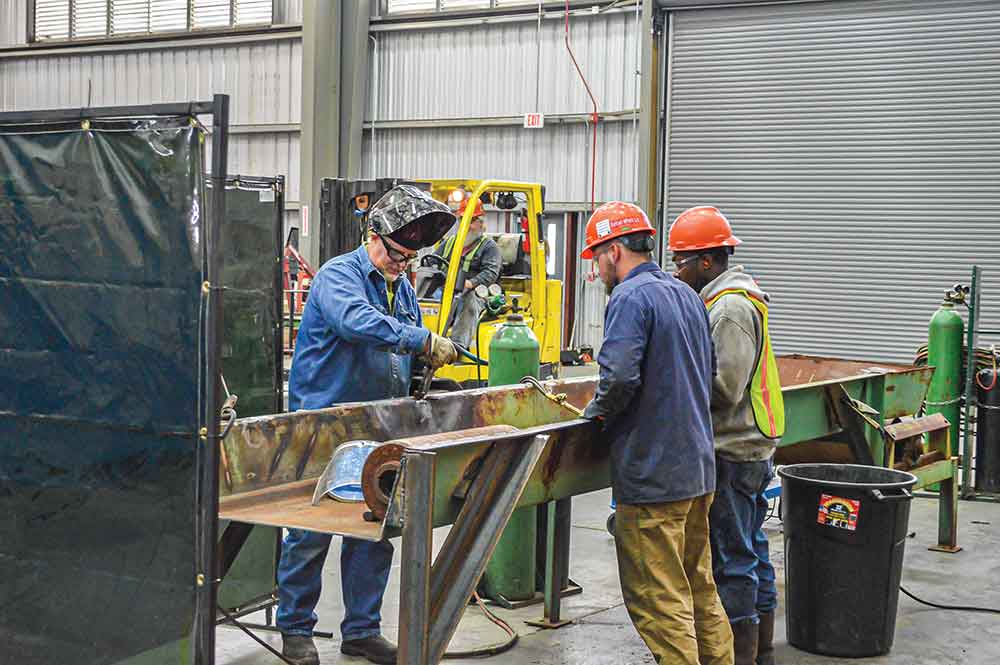 Panel World is delivered six times per year to North American and international professionals, who represent primary panel production operations. Subscriptions are FREE to qualified individuals.
The monthly Panel World Industry Newsletter reaches over 3,000 who represent primary panel production operations.
Panel World is delivered six times per year to North American and international professionals, who represent primary panel production operations. Subscriptions are FREE to qualified individuals.
Complete the online form so we can direct you to the appropriate Sales Representative. Contact us today!