Where There's A Will There's A Way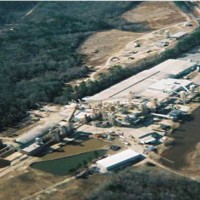 Story by Rich Donnell,
Editor-in-Chief
One of the more aggressive companies in recent years is Flakeboard, the Canada-based manufacturer of MDF, particleboard, melamine laminated products and other value-added items. We've been hearing a lot about Flakeboard's investment in several melamine laminating lines, but we were wondering about its primary manufacturing plants, especially the ones it purchased from Weyerhaeuser back in 2006, and most specifically of these the MDF plant at Malvern, Ark.
Sometimes we visit plants and, as Forrest Gump said, "you never know what you're going to get." Especially a plant like Malvern, which has been around since 1968 and operated under four owners. Frankly, Malvern had fallen off our radar, until recently when we heard they had done some work there. During these recessed economic times, the word that a mill "has done some work" causes the editors at Panel World magazine to perk up. We asked for a visit and Flakeboard most graciously opened its Malvern doors.
While we enjoy visiting brand spanking new greenfield operations (see Uniboard-Moncure article, May 2010), we really get a charge out of touring an older plant that has undergone significant work. This is certainly the case at Malvern. For example, the old Washington Iron Works presses have undergone a total makeover, and the sanding line is now totally modernized. Operators weren't shy about expressing their exuberance with the upgrade work and with the look of the "new" board product flowing through the plant.
At Malvern there is a spirit of re-birth, for two reasons really:
A) Flakeboard has committed some serious dollars to improving technologies throughout the plant.
B) Flakeboard is committing some serious time to improving the work force culture.
A and B don't necessarily go hand in hand; that is, we've visited many a plant that did A and ignored B. From an editor's perspective, these plants don't make for a very enlightening visit.
You don't necessarily have to do A while doing B, but it would seem that the implementation of B will become more effective if it's tied into A.
However it's done, we seem to be seeing more plants concentrating on their work force culture. There are lots of definitions of work force culture, and I'm sure there are consultants who know the exact definition, but the common thread appears to be greater participation and accountability for the work force. Pushing responsibility and decision making down the ladder if you will. Flakeboard at Malvern has gone so far as to strike the term "supervisor" from its glossary.
Of course employee empowerment is not a new concept. And we've seen many companies who began to change its work force culture, only to have an economic recession or an economic boom cast aside the noble notion.
Flakeboard is not one of these companies. For Flakeboard, employee involvement is part of its business philosophy. The plant manager at Malvern, Tom Quesenberry, told us that what makes the new cultural shift at Malvern so interesting is that he can look at other Flakeboard plants where the culture is embedded and clearly see where Malvern is headed.
It's amazing what you can do at a 43-year-old composite board plant.