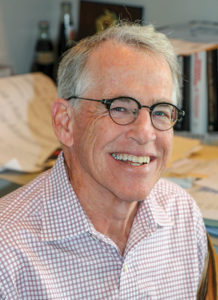 Article by Rich Donnell, Editor-in-Chief, Panel World July 2019
The story in this issue on Georgia-Pacific's OSB plant in Clarendon County, South Carolina brings back memories. Not memories of Georgia-Pacific, but rather of Grant Forest Products, the Ontario-based company that built an OSB plant in Allendale, SC, then immediately started construction of the one at Clarendon, before undergoing financial pains during the recession and ultimately selling both OSB plants to GP (owned by Koch Industries) in 2010.
My memories go back to September 1989 when I visited Grant Forest Products' new OSB line in Englehart, Ontario. The Grant connection to the GP story prompted me to look into my old files. I have thinned them out through the years, but some I've kept because the subject matter left an impression. Sure enough, the Grant file on the Englehart startup was there, fully intact, perhaps untouched in, could it really be, 30 years?
It's a thick file. Much of the material is the literature that Grant produced for the grand opening of the OSB line, such as the layout of the plant, the history and current makeup of the company, and most impressively a colorful magazine that delves into the development of the project and its successful realization.
Another item in the file is a printout of an article, written by my predecessor Griff Griffin, that appeared in the February 1983 issue of Panel World on Grant's new waferboard mill that had started up in 1982, one of several waferboard mills coming on line about that time. That article refers to 38-year-old Peter Grant as a "gutsy entrepreneurial." He was the oldest of eight sons born to the late Morgan Grant, and most of them were involved in managing the various businesses founded by their father, including farming, trucking, construction and sawmilling.
Another reason the Grant file was so thick was that 30 years ago people still used typewriters, and so there are pages of my typed up interview with Peter Grant from when we sat in his office for a good hour before I toured the new OSB line.
Grant, educated in civil engineering at Michigan Tech, had worked in construction in the U.S. before returning to the family business. He became general manager of Grant Lumber's planing mill at Elk Lake, before venturing into waferboard.
Grant told me the new OSB line cost about $75 million. It was located adjacent the waferboard line, each with their own dryers, blenders, forming line, multiple-opening press, and trim saw lines.
Peter Grant was known for his innovations and I recall the new OSB line using a combination of liquid and powdered resins, longer (6 in.) strands in the board, fines put back in the board. "We do things much much differently than anybody else does. I can assure you that," Grant told me.
I had interviewed another waferboard/OSB pioneer, LP's Harry Merlo, four years earlier. About the time I interviewed Grant, LP seemed to be building an OSB mill every year. I wondered then if Grant would follow such an accelerated path. He didn't go that route, seemingly content on what he had built at Englehart, until his 2005 announcement to build two OSB plants in South Carolina.
Those didn't pan out for Grant, but his legacy is all over them today. Meanwhile I hear that Grant has recovered nicely in the farming industry.
Raute Corp. has signed a contract worth 93 million Euros with Metsä Wood, part of Metsä Group, for the technology delivery of a new Kerto laminated veneer lumber (LVL) mill in Äänekoski, Finland. This order, the…
Georgia-Pacific, along with partners The Georgia Forestry Foundation and Jamestown LP, met with state and local leadership to discuss how prioritizing and utilizing sustainable structural…
In addition to announced keynotes, PELICE continues to add speakers and presentations for the numerous technical sessions on tap. The full PELICE agenda is expected to be announced later this month…
The monthly Panel World Industry Newsletter reaches over 3,000 who represent primary panel production operations.
Panel World is delivered six times per year to North American and international professionals, who represent primary panel production operations. Subscriptions are FREE to qualified individuals.
Complete the online form so we can direct you to the appropriate Sales Representative. Contact us today!