TP&EE Set For October 15-17 In Portland, OR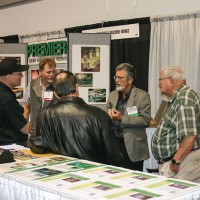 Hatton-Brown Expositions, LLC, an affiliate of Panel World magazine, announced in early April that the upcoming Timber Processing & Energy Expo to be held October 15-17 in Portland, Ore. is nearly sold out of exhibitor space. The event will be held at the Portland Metropolitan Exposition Center.
Organizers also announced that attendee pre-registration will open in June.
The 2012 event included 162 exhibitor companies that used up 43,000 square feet to display and demonstrate their machinery, technologies and supplies. More than 1,000 attendees from 115 forest products producing companies and 200 specific mill site operations visited TP&EE. They came from 30 U.S. states, five Canadian provinces and several overseas countries.
The event caters to producers of lumber, panels and heat energy for those ­industries.
Exhibit space on the main show floor is sold out; however, the organizers have opened additional space in a strip that connects to the exhibit floor.
Panel World, Timber Processing and Wood Bioenergy magazines, all affiliated with Hatton-Brown Publishers, Inc., serve as media hosts of the event.
The combined attendee and exhibitor attendance in 2012 of approximately 2,000 was buoyed by a brightening economy and pent-up demand for forest products mill improvements. Since then, improving housing markets and forest products demand has continued to boost industry confidence.
Attendees can pre-register for free, or can pay $10 for the registration along with a beer and hot dog ticket.
The event will also feature a Workshop Day. In 2012, more than 200 people attended 16 seminars. Presentation details and admission costs for the workshop will be announced soon.
TP&EE will again be held in Hall D, which encompasses 72,000 square feet inside, and an abundance of outdoor space as well. The overall Expo Center sits on 60 acres and includes five halls with 330,000 square feet.
Portland Expo Center is conveniently located off Interstate 5 between downtown Portland and Vancouver, Washington. It's only minutes from the Portland International Airport and has immediate access to the Max Light Rail.