They Were The Best And The Brightest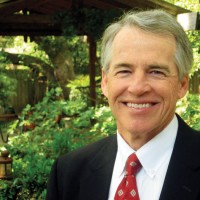 Story by Rich Donnell,
Editor-In-Chief
On page 8 we report on the death of Gene Knokey, who during his era was one of the most brilliant plywood machinery men in the industry. And it was a long era, extending from post-World War II to 2000, some 50 years, during which he went from building and managing several plywood plants in the Northwest to becoming one of the main innovators at Coe Manufacturing.
Knokey, who worked with his equally innovative dad in the early years, was very much involved in the design of the X-Y charger and all the other constant improvements done to the lathe. He along with Art McGee at Coe and Harold Erickson of Weyerhaeuser were instrumental in the development of the core drive for log stability as it was peeled.
The story is told that Coe put one in at Weyerhaeuser's plant in Longview, Wash. with the understanding that if it worked, Coe would build the next 10 for Weyerhaeuser. Coe put it in and it worked, but Weyerhaeuser wouldn't buy the next 10. For a while Weyerhaeuser wouldn't let Coe sell it to anyone else, until finally relenting. After Coe sold a lot of them, Weyerhaeuser came back and said they were supposed to have the rights to them, and Coe's Fred Fields and Knokey, who were always on top of their legal game, responded that Weyerhaeuser had the rights to buy as many as they wanted, but they didn't have the rights.
You can google-search patents for Knokey and several will come up, but Coe owner Fields once told me he often put the names of employees on the patents who perhaps were not as involved in the invention as some others in order that these employees would feel better about themselves and their stake in the company. Fields said Knokey probably had twice as many as he was officially given credit for.
One of my fondest memories during my 30 years writing about this industry was attending the old Portland machinery show in Oregon and stopping by the Coe booth, where the likes of Fred Fields, Gene Knokey, Ralph Gage, Art McGee and a young Alan Knokey were always holding court. You had better have your wits about you when you sat down with that group, as the conversation fluctuated from Nosler's laser scanning on lathe chargers to college football in the 1950s in a heartbeat.
Indeed there was a lot of camaraderie and technology innovation and exchange between the likes of Knokey and various mill company engineers. I mentioned Harold Erickson at Weyerhaeuser, one of the company's top engineers in the days when Weyerhaeuser had more than a thousand of them. Erickson died fairly young in 1973, so I never had the privilege of meeting him, but from what I've discovered he's probably in the top 10 of plywood technology innovators if anybody keeps such a list.
Knokey is in that list, too. I didn't get to know him as well as I knew Fields, but he was always friendly and willing to answer any questions on plywood technology. For me, those brief exchanges with one of the men who inspired and created plywood technology as we know it, will be forever cherished. These were men who knew they were in the middle of something special and labored with devotion pretty much around the clock.