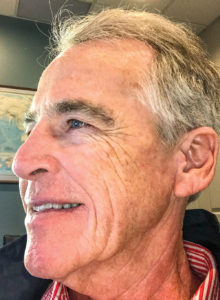 Article by Rich Donnell, Editor-In-Chief, Panel World March 2021
Every now and then a wood product comes along that causes us editors to pause— not necessarily over its innovativeness, but rather over which magazine we should write about it in. It's kind of a fun exercise actually.
We have several magazines that cover various sectors of the wood products industry, the Panel World in your hands being one of them. Another one is Timber Processing, which has a similar format as Panel World, only it focuses on lumber manufacturing as compared to panel manufacturing; or how can I put this most succinctly—solid 2x4s compared to composite 4x8s.
And then a product such as "mass timber" comes along, two versions of it in fact. One is the traditional CLT composed of 2×6 and 2×8 pieces, many of them fingerjointed, and stacked crosswise on top of each other in several layers, creating this monster piece of building material. The other is veneer-based mass timber (veneer as in what traditionally has gone into plywood), which can also be built to mammoth depths and sizes. Both of these are engineered wood products, each with a fairly similar mass timber production and handling process.
But since one is composed of lumber, does that mean we should only cover it in our sawmill magazine? Since the other is composed of veneer, should its placement only occur in Panel World? The simple answers would be "yes." But as Lee Corso always says, "Not so fast my friends."
Sometimes you just have to put it in one of the magazines and see how it "feels." Take Vaagen Timbers for instance. The story on its new CLT operation in Spokane, Wash. begins on page 24. For those of you who receive both Panel World and Timber Processing, you might be experiencing déjà vu. That's because the Vaagen Timbers article appeared in Timber Processing a couple of months ago. How could it not? The owner grew up in a sawmill family operation before venturing into CLT. His dad is a former Timber Processing Person of the Year winner.
Okay, so why now put the Vaagen article (which has been updated) in this issue of Panel World? Frankly, because it feels like the thing to do. How could we hide this engineered wood product story from our Panel World readers? After all, the product crosses into enduses once reserved for panels. The production technology therein is supplied by many companies who also supply the panel industry.
Another example is Freres Lumber and its new Mass Plywood Panel mass timber facility. We ran the article last year in Panel World, and then ran it again in Timber Processing. The veneer- based makeup of MPP has Panel World all over it, but again its end uses mesh into traditional lumber applications. Heck, Freres Lumber started out as a sawmill company, and still runs one, in addition to its panel and MPP operations. Our Timber Processing readers needed to read about the Freres venture into MPP.
Really, engineered wood products of almost all kinds deserve coverage in both periodicals. Sure, Panel World remains a panel magazine, and Timber Processing stays as a lumber magazine, but when it comes to mass timber, we went both ways at the fork in the road.
Raute Corp. has signed a contract worth 93 million Euros with Metsä Wood, part of Metsä Group, for the technology delivery of a new Kerto laminated veneer lumber (LVL) mill in Äänekoski, Finland. This order, the…
Georgia-Pacific, along with partners The Georgia Forestry Foundation and Jamestown LP, met with state and local leadership to discuss how prioritizing and utilizing sustainable structural…
In addition to announced keynotes, PELICE continues to add speakers and presentations for the numerous technical sessions on tap. The full PELICE agenda is expected to be announced later this month…
The monthly Panel World Industry Newsletter reaches over 3,000 who represent primary panel production operations.
Panel World is delivered six times per year to North American and international professionals, who represent primary panel production operations. Subscriptions are FREE to qualified individuals.
Complete the online form so we can direct you to the appropriate Sales Representative. Contact us today!