Swanson Acquires Olympic Panel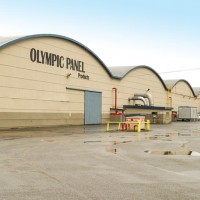 Swanson Group Manufacturing LLC has acquired Olympic Panel Products in Shelton, Wash., a longtime panel manufacturing facility and top plywood overlay producer in North America. Swanson purchased the plant from Atlas Holdings subsidiary New Wood Resources.
The plant in Shelton will operate into 2016 while Swanson rebuilds its Springfield, Ore. plant that was destroyed by fire in summer 2014. Plans are to eventually transfer Olympic Panel's assets and production to the new Springfield facility.
"Swanson is building a world-class plywood and veneer manufacturing facility in a location with an excellent workforce and log supply," says Steve Swanson, President and CEO of Swanson Group. "We have long been impressed with the quality and depth of Olympic's overlay product line and believe this acquisition fits with our goal to become the leading producer of overlay panels in North America."
According to Swanson, some of the equipment in Shelton will make its way to Springfield. "We won't be using the lathe or dryers from Shelton, but we will be using some presses, sand­ers, spreaders, detail saws, etc.," he says. "We plan to start some layup at Springfield before we take Shelton down."
The plywood plant at Shelton dates to 1964 when it was built by Simpson Lumber—and it's physically a part of Simpsons' large manufacturing complex there, sharing power and steam. Atlas Holdings purchased the plant's assets from Simpson in 2003 and renamed the plant Olympic Panel Products.
Swanson plans to have its new mill finished and ready to start up by mid 2016. The plant will employ 190.
Swanson says the mill will utilize a state-of-the-art triple-spindle peeling system with sheet and random stacking; two dryers, one handling wides and the other randoms, feeding to respective stacking systems; and a layup line and related systems that enable more overlay production.
When in full operation, the plant should produce 20MMSF of veneer per month while laying up about 10-12MMSF. Of the remaining output, lower grade material will go to Swanson's Glen­dale, Ore. plywood plant for use in sheathing products, and higher grades will be sold to LVL producers in the region.
The Swanson Group acquired the Springfield plant in 2007 and also operates a plywood plant and saw­mill in Glendale and a stud mill in Roseburg, Ore. Including a helicopter division and forest products sales and distribution company, Swanson Group employs more than 630 in western Oregon.