Structural Panel Production Rose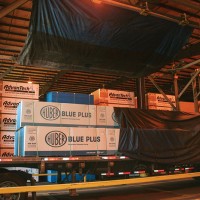 North American structural panel production increased 2.6% to 30.68 billion SF in 2014 compared to 2013.
OSB production was up 6% to 19.88 billion SF, with U.S. production increasing 4.1% to 13.008 billion SF and Canadian production increasing 9.7% to 6.877 billion SF.
Plywood production was down 3.1% to 10.795 billion SF, with U.S. output falling off 3.9% to 8.985 billion SF while Canadian production increased 1% to 1.810 billion SF.
North American glulam production was up 1.4% to 254.8 million board feet. I-joist production was up 7.4% to 672.2 million linear feet, and LVL production increased 11.7% to 63.9 million cubic feet.
U.S. plywood exports to Mexico and the offshore markets totaled 358MMSF, down 15% from 2013, including a 33% decline in exports to China.
U.S. plywood imports from offshore totaled 424MMSF, up 3.2%, while Canadian plywood imports from non-U.S. sources were 50MMSF, up 22%.