States Industries, Biele Group Collaborate In Eugene
States Industries LLC, Eugene, Ore., and the handling equipment machinery company, Biele Group, have successfully implemented their first project collaboration consisting of an automatic line to produce hardwood plywood panels, up to 10 ft. in length, through a short cycle multi-opening press.
The project consists of fully automatic handling and cleaning of the substrate, gluing on top and bottom surfaces, and semi-automatic layup of top and bottom hardwood veneers that then feed the four-opening press.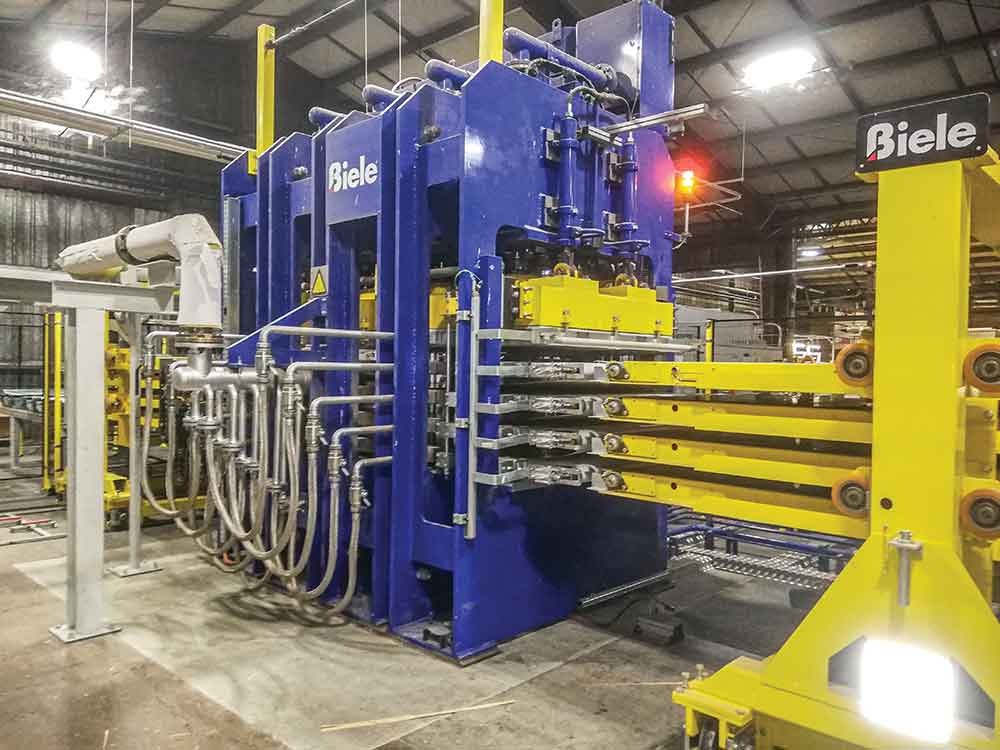 Behind the press, the line is also cleaning the overhanging veneer of the panels without any trimming of the substrate and includes a vertical putty section in case panels need to be repaired before stacking. All these processes are completed continuously without stops.
By means of a customized design of the system, Biele accommodated the required process in the available floor space, adapting to the needs of States Industries.
The investment was a strategic move by States Industries LLC, and having brought the new line into operation early in 2021, the Eugene-based company has increased its production capacity of high value panels as well as product quality from a wide array of panel sizes, substrates, hardwood veneers, and order quantities.
Louisiana Pacific and Biele Group have successfully implemented their first project—a shake profile production line in Swan Valley, Manitoba, Canada. This investment is part of the company's expansion plans for siding products within their LP SmartSide…
The International Woodworking Fair (IWF) at the Georgia World Congress Center completed four days of tremendous activity on Friday, dominated by 925 exhibits. Machinery on tap was mostly downstream, remanufacturing and secondary processing, with some primary manufacturing technologies and laminate…
West Fraser Timber Co. Ltd. has announced it is permanently curtailing approximately 170 MMBF of combined production at its Fraser Lake and Williams Lake sawmills and approximately 85 MMSF of plywood production at its Quesnel Plywood mill…
The monthly Panel World Industry Newsletter reaches over 3,000 who represent primary panel production operations.
Panel World is delivered six times per year to North American and international professionals, who represent primary panel production operations. Subscriptions are FREE to qualified individuals.
Complete the online form so we can direct you to the appropriate Sales Representative. Contact us today!