SOMETIMES THE PATHS COME FULL CIRCLE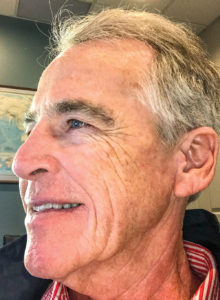 Article by Rich Donnell, Editor-in-Chief, Panel World November 2020
We know that people's paths may cross; the same can be said of articles in Panel World. You've probably noticed that the cover article for this issue is on the Winston Plywood & Veneer operation in Louisville, Miss. It is somewhat of a sequel article, in that Panel World first visited the plant shortly after it started up; having heard it had gotten the kinks out, so to speak, Panel World recently visited it again, and it appeared to be hitting on all cylinders as plywood prices continued to skyrocket. Nice timing. It has taken a lot of focus and innovation on the part of the operators to bring it up to where it needs to be.
Winston Plywood & Veneer is owned by New Wood Resources LLC, which is owned by Atlas Holdings. They built the new plant at the site of a former GP plant. They were originally going to resurrect the old GP plant, but a tornado in April 2014 wiped out the plant and those plans. So they built a new one with a lot of used machinery that they rebuilt. You might say it's been "the great fine-tuning" ever since, and now it's paying off.
But let's get to where I'm trying to go with this. Atlas Holdings formed New Wood Resources shortly after it sold its Wood Resources company and its two southern pine plywood plants to Boise Cascade in 2013. New Wood Resources was formed not only with the Winston operation, but two Western plywood operations as well—since sold off.
Another company in the Atlas Holdings portfolio (operating partners as Atlas Holdings calls them) is RedBuilt. Redbuilt, based in Boise, Id., is a designer, manufacturer and marketer of engineered wood products—open web trusses, I-joists, LVL, glulam beams, etc. RedBuilt was launched in 2009, when Atlas Holdings and a group that included former Trus Joist executives acquired the commercial division of Trus Joist from Weyerhaeuser, which had acquired Trus Joist in 2000.
Trus Joist was the king of engineered wood products, and so it shouldn't come as a surprise that the "Red" in the name Redbuilt stands for Harold (Red) Thomas, the co-founder of Trus Joist in 1960 in Boise and who with the other co-founder, Art Troutner, had developed and was marketing open web trusses and other engineered wood products even before then, and would go on to develop others, including laminated veneer lumber. Environmentally speaking, their products addressed a shrinking supply of quality timber, caused mostly by the environmental movement.
On page six of this the November 2020 issue you'll read of the recent death of Red Thomas, who was the salesman and promoter of the team, while Troutner, an architect, was the inventor.
Thomas lived long enough this year to hear that RedBuilt had become in May the exclusive distributor of another engineered wood product that is coming on strong—cross-laminated timber; in this case produced by CLT manufacturer SmartLam.
And to take the crossing of paths a step further, our friend Kurt Liebich, chairman of RedBuilt and New Wood Resources, began his career with Trus Joist in 1994 and was involved in all of the developments and transactions heretofore mentioned since then.
Roseburg announced that Matt Lawless has been named Vice President-General Counsel and Corporate Secretary, effective March 1, 2023. Lawless will join the company's executive team and help set strategy and overall direction for the business…
Egger Wood Products has announced the start of production on a third lamination line at its Lexington, N.C. facility. The $21 million investment will expand the company's thermally fused laminate (TFL) production capacity by 50%, increasing production to more than 155 million sq. ft. per…
As a globally operating supplier of burners as well as drying and energy plants, Büttner—a member of the Siempelkamp Group—is taking the next logical step by establishing a new environmental technology competence center in Kaiserslautern, Germany, and expanding its product range in the field of environmental…
The monthly Panel World Industry Newsletter reaches over 3,000 who represent primary panel production operations.
Panel World is delivered six times per year to North American and international professionals, who represent primary panel production operations. Subscriptions are FREE to qualified individuals.
Complete the online form so we can direct you to the appropriate Sales Representative. Contact us today!