Sawmill Project Plans New Design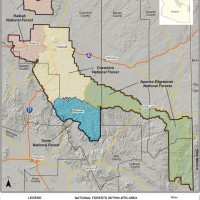 Multiple fingerjointing lines and edge gluing production will be part of a $250 million wood processing complex to be built in Winslow, Ariz. by Pioneer Associates, based in Billings, Mont.
The project will also comprise a small log sawmill along with 20 dry kilns for the production of pine lumber that is to be fingerjointed, edge glued and otherwise engineered into door products, window frames and furniture components. The complex is expected to employ 280 while adding another 160 jobs related to logging. The operation will receive 115 truckloads of logs daily.
Pioneer Associates recently received a federal government contract to thin 300,000 acres over 10 years as part of the the federal Four Forests Resource Initiative (4FRI), which aims to restore 2.4 million acres of ponderosa pine timberland on the Cococino, Kaibab, Apache-Sitgreaves and Tonto national forests.
The new sawmill in north central Arizona will utilize an innovative batch processing concept from Adco-Designs. While traditional batch systems have sorted incoming logs by diameter to reduce throughput and saw set variation, the concept here is to scan, optimize and process logs through primary breakdown, then sort cants into "solution" batches that will allow downstream machines to maintain constant sets per the solution being sawed.
According to Adco's Rich Landers, the system will allow machine centers to run slower and more accurately while also maintaining production due to the lack of gaps between individual pieces. "It will be more like a ribbon-cutting system, with thin kerfs and slower speeds," he says.
The operation will utilize stems smaller than 14 in., while larger logs are scheduled to go to Precision Pine & Timber in nearby Heber, though large logs are expected to only make up 3% of overall volume.
In addition to using its fiber waste to generate steam for the kilns, heat for the mill and power production, Pioneer Associates plans to construct an adjacent biofuels production facility.
Pioneer has already been in project discussions with Concord Blue Energy, a Las Vegas-based subsidiary of a German waste management company that specializes in turnkey general contracting and engineering for the implementation of waste to energy projects, and offers its own gasification and combustion technologies.
Pioneer Associates won the thinning award with a $6.3 million bid. This created some controversy because another company, Arizona Forest Restoration Products (AZFRP), offered $15 million. AZFRP planned to build an oriented strandboard plant. Pioneer apparently won the award because its wood products operation is not expected to be so commodity-driven while also bringing along an environmentally correct biofuels plant.
However, AZFRP noted after the award announcement that Pioneer's products will be destined for the same housing and commercial construction markets as AZFRP's products would have been. Company officials also questioned how the government could regard as low risk a proposed cellulosic biodesel plant as a viable project "when apparently not a drop of cellulosic biodiesel has ever been produced outside of a research facility."
Pioneer Associates hopes to begin site development by the end of this year and start up the sawmill by late summer next year, with the biofuels plant to come a little later. Pioneer has unsuccessfully shopped its small log production complex concept in Canada and New Mexico in the past, but a lack of sufficient timber supply turned away those efforts.
Ongoing drought conditions and overstocked forests have combined to heavily impact Arizona, where several major forest fires have occurred the past few years. Federal officials in the region had long seen the need for forest health restoration efforts, but with no new funding and a severely limited market for the small timber and other barely merchantable forest residuals, a new approach was needed to create economically viable forest products capacity to handle the low-grade material resulting from timber stand management activities.
As 4FRI team leader Henry Provencio notes, "We asked industry what was needed for them to move back to northern Arizona. The reply was a long-term commitment of supply, sufficient to meet the investment we are asking them to make. In order for us to meet that kind of commitment and meet the restoration needs of our forests, we had to go big."