Roseburg Promotes Grady Mulbery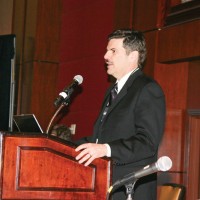 Allyn Ford, president and CEO of Oregon-based Roseburg Forest Products, announced the promotion of Grady Mulbery to Vice President of Manufacturing for the company. In this newly created position Mulbery will oversee all manufacturing facilities throughout the company, including com­­posites, lumber, engineered wood, plywood and veneer.
Mulbery joined Roseburg in January 2011 as the Vice President of Manufacturing for the composite panel business. Prior to joining Roseburg, he was with Sierra­Pine LTD and has held positions with Weyerhaeuser and Willamette Industries as director of operations, regional manager, general manager and plant manager and has extensive experience in particleboard, medium density fiberboard and laminated-veneer lumber (LVL) operations. He has also been responsible for research and development efforts in the area of wood/plastic composite products.