Roseburg Orders Super-Long Dryer
Roseburg Forest Products has ordered a veneer dryer for its plant in Coquille, Ore. from Westmill. At 204 ft. length, the dryer will be the longest veneer dryer in North America, according to the participants. The 6-deck, steam-heated jet dryer is designed to dry the heaviest moisture Douglas fir, hemlock and spruce green veneer.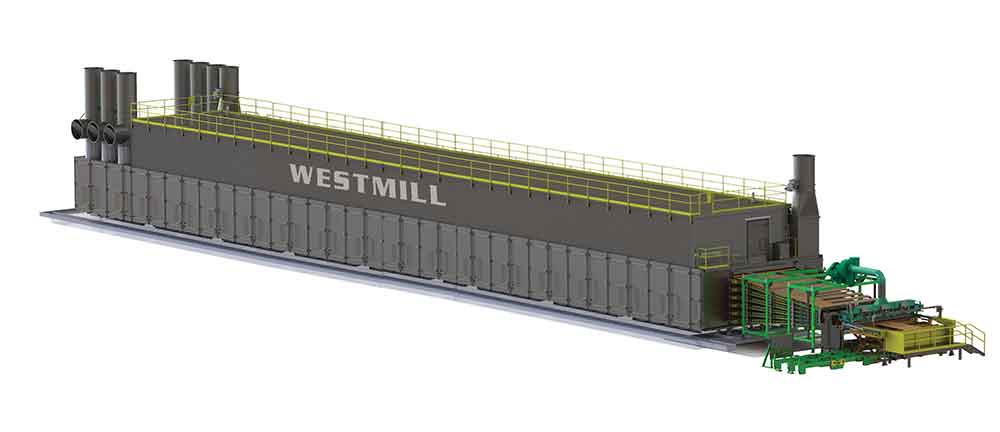 Some key innovations that are on new Westmill dryers, including the new dryer going to Roseburg, include:
WestVac End-Wall Emission Control System (patented):

Provides an effective method of controlling end-wall dryer emissions, increase production, save energy, and improve veneer quality while reducing the risk of dryer fires.

2-Pex Exhaust and Dryer Humidity Migration and Control System (patented):

Provides unparalleled control of humidity along the entire dryer's length, resulting in increased production, energy savings and greatly improved veneer quality.

Quick-Change Dryer Roll Baffle System (patented):

Removing and replacing roll baffles now takes under one hour vs. 16-man-hours of very labor-intensive work to change a complete set of baffles (stop-off wall).
Fan Shaft Seal System:

This proprietary Westmill design permanently solves the common problem of emissions leaking through fan packing glands at the circ.-fan shaft. This solution has also greatly reduces the common problem of bottom bearing failures caused by high-heat and contamination at this location. Westmill has this installed and successfully operating now in more than 300 dryer fan applications in North America. It is also retrofittable to old style fan assemblies.

"Safe Motion" Door Handle Load-Dampener (patent pending):

Eliminates the potential risk of "strike-hazard" for dryer tenders when opening a dryer door.

Bearing Vibration Monitoring:

This real-time monitoring of all dryer fan bearings directs maintenance personnel to "out of tolerance" areas before they become failures.

Water Misting System:

Greatly reduces the risk of fires caused by debris build up on the dryer floor.

Minimal Heat Transfer Dryer Housing:

Designed to virtually eliminate metal-to-metal contact between the inner and outer walls of the dryer's roof and siding. This greatly reduces energy consumption due to improved thermal efficiency, and also reduces pitch build-up and dryer fires inside the dryer. Unlike any other dryer housing, Westmill reports its housing is actually "cool to the touch."
Brad Thorlakson, President and CEO of Tolko Industries, has announced that Pino Pucci, Vice President of Sales, Marketing and Logistics will assume a newly created interim role as Tolko's Chief Operating Officer. "This role has been created to support our succession planning process, as Pino will eventually succeed me as President & CEO," Thorlakson says. "Pino's proven leadership experience, significant focus on people and culture, and his alignment with our values make him the perfect…
The monthly Panel World Industry Newsletter reaches over 3,000 who represent primary panel production operations.
Panel World is delivered six times per year to North American and international professionals, who represent primary panel production operations. Subscriptions are FREE to qualified individuals.
Complete the online form so we can direct you to the appropriate Sales Representative. Contact us today!