Roseburg Goes For LVL In SC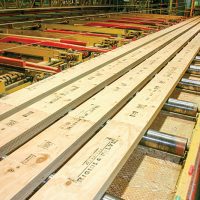 Oregon-based Roseburg Forest Products will expand its operations in the Southeastern U.S. with construction of a new engineered wood products plant in Chester, SC.
"This is an exciting strategic growth opportunity in a business that has done well for us," Roseburg President and CEO Grady Mulbery says. "With the continued increase in housing starts in the Southeastern U.S., we see ongoing demand growth for engineered wood products in the region and elsewhere. We are grateful to state and local officials in Chester for their hard work and collaborative efforts to facilitate this project."
Groundbreaking on the manufacturing facility is expected in early 2018, with anticipated operation startup in mid-2019. Once completed, the plant could create 148 full-time jobs.
"This new plant will be the most technologically advanced manufacturing facility of its kind in the world with the highest capacity continuous LVL (laminated veneer lumber) press in the world," says Steve Killgore, Roseburg Senior Vice President of Solid Wood Business. "Expanding our manufacturing capacity in this way allows us to meet growing customer demand for a versatile product that combines the best of modern processing technology and structural capability."
Roseburg first established its engineered wood products business in 2001 and currently manufactures RFPI joists, RigidLam LVL and RigidRim rimboard at its plant in Riddle, Ore.
A significant percentage of Roseburg's engineered wood customers are located in the Southeastern portion of the country.
Roseburg did extensive research prior to choosing a location for the plant, with criteria including market demand, raw materials availability and cost, and business climate .