Roseburg Gets Chester Rolling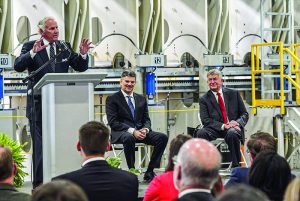 Roseburg Forest Products held a ribbon-cutting ceremony on October 28 to celebrate the grand opening of its newly constructed engineered wood products plant in Chester, SC. South Carolina Governor Henry McMaster participated in the event along with Roseburg President and CEO Grady Mulbery and Roseburg owner and Chairman Allyn Ford.
The Chester Engineered Wood plant features the highest-capacity LVL (laminated veneer lumber) press in the world. The project was first announced in summer 2017 and the construction team broke ground later that year. When fully operational, the plant will employ at least 145.
The Chester facility will produce LVL headers and beams used in residential and commercial construction. Roseburg first established its engineered wood business in 2001 and currently manufactures RFPI Joists, RigidLam LVL and RigidRim rimboard at its engineered wood products plant in Riddle, Ore.
Roseburg did extensive research prior to choosing a location for the new plant, with criteria including market demand, raw materials availability and cost, and business climate. Roseburg clients in the Eastern U.S. will now have access to a stable supply of high quality LVL products.
"South Carolina is a great state to do business in," Roseburg President and CEO Grady Mulbery says. "Our research showed that this region was an ideal place to locate this facility, with its steady demand, healthy market and bountiful wood supply. Chester County and the state of South Carolina stood out, offering outstanding support and assistance as we navigated through the process."
Attendees at the ceremony included state and local politicians, regional officials, and more than 100 recently hired plant employees. After the ribbon cutting, project leaders guided guests on a tour of the expansive manufacturing plant, which produced its first board on September 19.
"What started out as an undeveloped plot of land is now home to a state-of-the-art manufacturing facility thanks to the efforts of a team of people with the vision and knowledge to make it happen," comments Allyn Ford, Roseburg owner and chairman. "Because of those efforts, 145 people will have jobs that did not exist before, and 145 families will earn a stable income in a safe work environment that contributes to the overall health and prosperity of this community and this state."
Upon full production, the line will produce up to 285,000 m³ of LVL per year, made possible by microwave preheating and continuous press technology. Dieffenbacher supplied the LVL press and the upstream 600 kW microwave.
To produce high quality LVL, the veneers are evenly heated in the microwave over the entire mat thickness. The special design of the Dieffenbacher CPS press infeed means the distance the mat has to travel "without pressure" upon leaving the microwave until reaching the maximum pressing pressure is less than 2,500 mm. This prevents pre-curing of the resin. Fast-hardening glue can be used to increase production speed and capacity.
In addition to boosting capacity, the ideal combination of microwave and CPS also enhances board quality. The continuously produced LVL boards have more consistent mechanical board properties and significantly lower thickness tolerances. Subsequent sanding is not necessary. For example, unsanded LVL boards can be used directly as scaffolding planks, and unsanded veneers can easily be pressed into high quality boards.
Dieffenbacher LVL technology reportedly enables board thicknesses of up to 120 mm and allows MUF adhesives to be used in the top veneer overlapping area. The Roseburg line in Chester is Dieffenbacher's eighth LVL project with a continuous press.
RELATED ARTICLES
PRODUCERS ANNOUNCE PERSONNEL CHANGES
ROSEBURG TO SHUT DOWN DILLARD P'BOARD
NEW STRATEGIC MARKETING MANAGER FOR ROSEBURG
Alan Douglas Brett, who in the latter half of his career led the international advertising sales growth of Panel World magazine, and whose vigorous life included professional motor cycle speedway racing as a young man and a long stint as sales manager with the Daily Telegraph in London, died January…
U.S. housing starts (combined single-family and multi-family) showed a slight decline in November, coming in at a seasonally adjusted rate of 1.427 million, 0.5% below October, and 16.4% below starts in November 2021, according to the U.S. Census Bureau and U.S. Dept. of Housing…
To better address its operational and strategic development plans, Raute is changing its organizational structure, which will strengthen Raute's ability to service customers and streamlines internal operations. The change will also be reflected in the…
The monthly Panel World Industry Newsletter reaches over 3,000 who represent primary panel production operations.
Panel World is delivered six times per year to North American and international professionals, who represent primary panel production operations. Subscriptions are FREE to qualified individuals.
Complete the online form so we can direct you to the appropriate Sales Representative. Contact us today!