Roseburg Acquires Simsboro Facility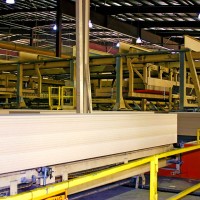 Roseburg Forest Products has entered into an agreement to acquire Flakeboard's particleboard manufacturing and laminating facility in Simsboro, La.
"This acquisition demonstrates our continued commitment to the composite industry and the customers we serve," states Allyn Ford, Roseburg's CEO and president. "Through our purchase of the plant in Simsboro, Roseburg will own one of the most modern continuous presses in the United States. This unique opportunity will fill a gap in our product line, allowing us to better meet the current and emerging needs of our composite customers."
The transaction is expected to be completed this summer.
In the Southeast U.S. Roseburg currently operates particleboard plants at Taylorsville and Louisville, Miss. and Russellville, SC; and laminating plants at Oxford, Miss. and Orangeburg, SC.