'Pure Agony, Pure Joy, Nothing In Between'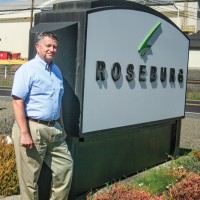 Story by Rich Donnell,
Editor-in-Chief

As usual, APA's annual meeting was an enlightening and festive affair, held on Amelia Island, Florida. Keynote speaker and financial analyst Ron Insana gave everybody reason for hope (see page 66), but the real treat in my book was the brief talk given by Allyn Ford, president and CEO of Roseburg Forest Products.
APA presented Ford the 2012 Bronson J. Lewis Award for leadership and outstanding contribution to the engineered wood products industry. Ford has served as president and CEO of Oregon-based Roseburg Forest Products since 1997, assuming the role after the death of his father, founder Kenneth Ford. Roseburg Forest Products is one of the largest producers of softwood and hardwood plywood and LVL/I-joist. Ford and his wife Cheryl's philanthropic and charitable endeavors are too many to list here.
Speaking of the industry, Ford said, "It's a very special fraternity, a very different group of people. We suffer through these cycles, pure agony, pure joy, nothing in between. These extremes create a different type of culture, thick skin, stubborn, but also (a sense of) humility."
Ford noted that he has made a lot of mistakes, but that you can't sit still, and you continue to "bet the farm" every cycle. He said he's been through six such cycles.
Regarding the latest one, Ford said, "The great recession has been painful. It's left a few scars. But (now) we have a recovery. We're seeing (positive) changes in the economy and certainly in our industry."
Meanwhile, Ford said, "The restructuring of our industry, a new generation coming on…This is a time of great opportunity."
Ford asked aloud, "Why don't I retire?" He answered, with a smile, that he feels tremendous satisfaction in being able to say he owns a wood product business that has surpassed 75 years in longevity. "We can still shake hands and cut a deal," he said. "There's great faith and honesty in our industry."
When Ford said, "it's been fun," I became concerned that he was about to say he was bowing out. But he followed with, "I've got two or three years left, much to the disappointment of my managers (at Roseburg)."
It troubles me when industry loses its great people to retirement. Maybe we can convince Ford to put in another 10.