Projects In Works For Wemhöner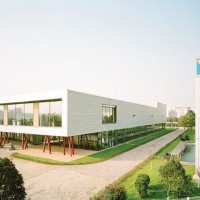 Wemhöner Surface Technologies of Herford, Germany reports a good order inflow for its core product, short-cycle press lines for decorative finishing of timber products used in the furniture and laminate flooring industries. Just before Christmas, the 500th order for the Wemhöner short-cycle press line came in from Kronospan Group for its new plant in Belarus.
In the innovative Digital Printing Lines market segment, highly promising concepts are being offered to the market now. The division of equipment for the manufacture of photovoltaic elements has also received orders for the first five machines. The sale of several press lines for the manufacture of door elements was also successful.
In 2013 the company with its staff of 400 employees (more than 120 of which are located in China) for the first time achieved sales of more than EUR 100 million and a good order book position should ensure a similar level of sales in 2014.
Construction is under way at Wemhöner's plant in Changzhou, China, where an additional production hall with a surface area of 2,000 sq m will fill up the existing plot of land; more construction work is to follow in 2014 in Herford, where several hundred square meters of office space will be built.