Power Of Pelice Is In The Exchange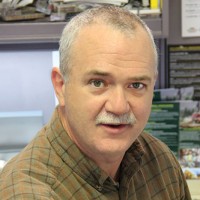 Story by Dan Shell,
Managing Editor
Let's say you operate a plywood plant and think it's time to upgrade or replace a veneer dryer. To help in making the decision, you decide to attend the 2014 Panel & Engineered Lumber International Conference & Expo (PELICE) in Atlanta at the Omni Hotel at CNN Center.
Just to begin your research, in the Grand Ballroom of the North Tower, you will find three dozen exhibitors that can provide equipment or services related to your project. More specifically, two veneer dryer technology-specific presentations are part of the first morning breakout sessions following the keynote general sessions, with numerous additional presentations on particulate emissions control, operational enhancements and project development on tap over the next two days—all of which mean something to your upcoming capital expenditure.
Held recently and for the fourth time, PELICE puts people together in a relaxed environment that allows effective information exchange and networking. Competition and alliances notwithstanding, PELICE brings all segments of the industry together to emphasize challenges and opportunities common to all—while also providing technical solutions and better operational ideas for specific panel manufacturing processes and applications.
One presentation that comes to mind was that of Dustin Neumann of Neumann Process Control, who spoke about technology upgrades and migrating legacy systems to new technology platforms. Neumann brought up considerations that strike to the heart of the technology and information opportunities that an event like PELICE provides, especially for those researching system upgrades and capital improvements.
"The last few years have shown the importance of staying competitive," Neumann said, urging his listeners to prioritize process upgrades, evaluate proposals to determine highest-value propositions and also to simply take advantage of the expertise that vendors and suppliers possess.
And that's what PELICE delivers as good as any other business move: An opportunity to invest in yourself and your organization by gaining better knowledge of the industry around you while learning more about the latest in panel manufacturing. For technology vendors, PELICE is a solid platform to highlight their latest products and services, with key industry leaders and decision-makers in attendance.
In a social-media age when business operators, managers, suppliers and vendors are all networked and linked electronically (but remotely) as never before, an event like PELICE gives industry's top movers and shakers—and anyone, really, from the mill floor to executive suite—an opportunity to rub shoulders, meet face to face and build solidarity through better business strategies, providing the foundation for those crucial, numbers-crunching closed door meetings that were happening all over the Omni Hotel.
A hearty thanks goes out to all who attended, exhibited or otherwise supported PELICE this year. The staffs at Panel World, Hatton-Brown Publishers and Georgia Research Institute look forward to doing it all again in the same venue on April 7-8, 2016.