Not Exactly Steinbeck But We'll Take It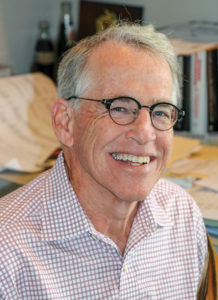 Article by Rich Donnell, Editor-in-Chief, Panel World July 2020
We've all been confined to our small corners of the world for the past three months, but my wife and I ventured forth and made the drive from Montgomery, Alabama to Denver Colorado at the end of May to visit my daughter and son-in-law and our 11-month-old granddaughter. We hadn't seen them since Christmas and our duty was to load our giant Suburban with a bunch of their stuff that they didn't take with them to Dartmouth College in Hanover, New Hampshire, where they were bound in early June so my daughter could complete a year-long dermatopathology fellowship.
We had made the drive several times (they lived in Denver four years while she completed her residency). There are a few ways to get there (we tried them all) and they're all about 1,400 miles in distance and a solid 22 hours of driving. From Montgomery you can go through Memphis or Dallas, but we've always preferred the Memphis route. From Memphis you can work your way up to Kansas City and turn west onto the long stretch of I-70 through Kansas and straight into Denver; or you can stay on I-40 through Little Rock and Fort Smith over to Oklahoma City, and then turn north through Wichita and come out on I-70 and then head west.
Or, as we prefer, you can stay on I-40 through Oklahoma City just before reaching the Texas line veer off the interstate and follow the highways up and around Amarillo, through the Dust Bowl towns of Wheeler, Pampa, Borger, Stinnett, Dumas and Dalhart, all in Texas, before proceeding into the northeast corner of New Mexico and spending the night in Clayton. Yep, 17 hours and multiple stops at Love's gas stations to Clayton, where you can stay at Hotel Ecklund, a three-story stone structure built in 1892, near where they hanged outlaw Black Jack Ketchum in 1901. We were the only people staying there that night, as it was "mostly" closed due to the virus.
Clayton is a quaint town of fewer than 3,000 and seeing its main street businesses all shut down because of the virus and watching the few people we saw walking around wearing masks really brought home just how all-encompassing the virus crisis is. Some of those businesses, as we all know, won't make it back.
This northwest Texas into northeast New Mexico drive, along the Santa Fe Trail and through vast ranches and farmlands and not-too-distant mountains is very scenic. From Clayton you continue west to Raton to get on I-25 and head north into Colorado, through Trinidad, Pueblo, Colorado Springs and on into Denver.
By the time we reached Denver, the protests had started downtown (a couple of miles from my daughter's house), but close enough to add even more anxiety on top of the virus jitters.
We had a wonderful visit with our granddaughter, though we only stayed a couple of days, left with a vehicle full of boxes and drove the same way back home but straight through; again, lots of Love's and – as I've always felt is the true indicator of a rebounding economy – lots of trucks.
It felt good to get out.
Alan Douglas Brett, who in the latter half of his career led the international advertising sales growth of Panel World magazine, and whose vigorous life included professional motor cycle speedway racing as a young man and a long stint as sales manager with the Daily Telegraph in London, died January…
The monthly Panel World Industry Newsletter reaches over 3,000 who represent primary panel production operations.
Panel World is delivered six times per year to North American and international professionals, who represent primary panel production operations. Subscriptions are FREE to qualified individuals.
Complete the online form so we can direct you to the appropriate Sales Representative. Contact us today!