New Portland Event Expects Panel Sector To Be Major Participant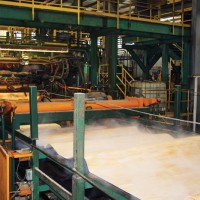 Organizers of the new Timber Processing & Energy Expo report that 65 equipment and supplier companies have signed up to exhibit during the October 17-19 event to be held at the Portland Exposition Center in Portland, Ore. Those exhibitors have reserved 21,000 sq. ft. of booth space, as of early April, meaning the event is more than 60% sold out.
"And we're still six months away," comments Co-Chairman Rich Donnell, who is also the Editor-in-Chief of Panel World magazine and Hatton-Brown Publishers, Inc. "The show is almost selling itself, which indicates to me that companies are anxious to experience a new venue in the Northwest."
Panel World is affiliated with Hatton-Brown Expositions, which is the show producer. Panel World along with Hatton-Brown publications Timber Processing and Wood Bioenergy are the magazine hosts of the event.
The Portland Expo Center is conveniently located off Interstate 5 between downtown Portland and Vancouver, Washington. It's only minutes from the Portland International Airport and has immediate access to the Max Light Rail.
TP&EE is scheduled for Hall D, which encompasses 72,000 sq. ft., nearly half of which will be sold as exhibit space. The overall Exposition Center sits on 60 acres and includes five halls with 330,000 sq. ft. The facility hosts more than 100 events annually, attracting in excess of 500,000 attendees.
Exhibitors will cater to an attendee base of primary producers of lumber, veneer/plywood and engineered wood products as well as wood-to-energy producers.
The previous Portland show under a different ownership simply ran its course, Donnell says. "It was a great show for many, many years. But I believe the machinery community and the mill community are looking for a new event that is organized and operated by people who are hands-on with the wood products industry. In fact people have been asking us for years to do this."
Donnell says that one area where the previous Portland show became increasingly lacking was the veneer/plywood industry. "It became almost purely a lumber show, and certainly lumber is a major portion of it," Donnell says. "But the veneer/plywood sector is equally as big and we intend for our new event to represent it equally well."
Panel World magazine was one of the hosts of the recently concluded Panel & Engineered Lumber International Conference & Expo (PELICE) in Atlanta. Asked what the difference is between PELICE and the new Portland show, Donnell responds, "PELICE was primarily a conference with great support from the exhibitor community. TP&EE is primarily a machinery exhibitor show."
However, Donnell adds that TP&EE will have a conference element to it, more specifically called "Workshop Morning." It will be held on the morning of October 18 and include three subject areas, with multiple presenters addressing each. The topics are: Veneer Lathes & Dryers; Wood Energy Systems; and Sawmill Scanning & Optimization. The topics relate to the show's three main areas of focus: veneer and panel production; wood-to-energy; and lumber production,
"We're now beginning our promotion efforts to convince the mill community that they will thoroughly enjoy this event," Donnell says. "Many of them, particularly in the panel sector, had quit coming to the Portland show because they weren't getting enough out of it."
Donnell adds that these same people are the readers of Panel World, Wood Bioenergy and Timber Processing magazines. "They know us. They know we'll give this show 110% with them in mind."
For information on exhibit space sales, contact Fred Kurpiel at 678-642-1238; e-mail [email protected].
For information on Workshop Morning, e-mail [email protected].
Also visit www.timberprocessingandenergyexpo.com.