New OSB Mill Still On Schedule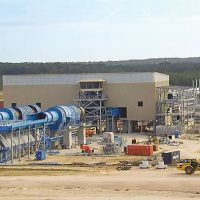 Work continues in Corrigan, Texas on a new oriented strandboard (OSB) manufacturing plant, the first such facility in the Lone Star State for RoyOMartin. Due to open in fall 2017, the plant represents a $280 million investment, is situated on 158 acres, and adds 165 direct jobs.
Corrigan OSB, L.L.C. is the only greenfield OSB plant under construction in the country and, upon its completion, will ship its products throughout the U.S.
In September, company officials and the East Texas community celebrated the grand opening of the plant's administration building, which marked the beginning of the transition from a construction site to a fully operational facility. Construction began in July 2015 and is nearly halfway complete. About 30 employees have been hired to date.
"We believe East Texans share our passion for excellence and experience," says Roy O. Martin III, president, CEO and CFO of RoyOMartin. "We have sold into the Texas market for a long time, and now we look forward to becoming a proactive partner in the community."