Knokey Behind Many Plywood Developments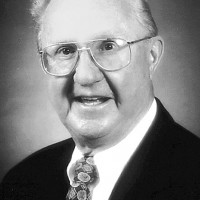 Gene (Eugene Rae) Knokey, the technical inspiration and motivating force behind the development of much of the plywood process machinery still considered today the standard of the industry, died August 22 in Anacortes, Wash. He was 84.
Knokey retired as vice president of Coe Manufacturing in 2001, and was a long-time confidant of Coe's owner, Fred Fields. He had joined Coe in 1967, bringing vast plywood mill experience with him.
In Fields' autobiography, "My Times With Coe," Fields wrote of Knokey, "His father was a master mechanic and Gene had grown up working with his father, and they had always worked in plywood plants. Gene knew everybody in the industry, knew every plant and every manager, had a good reputation, and he was smart."
Knokey started his plywood career in Kalama, Wash. (Co­lumbia Veneer), where he met Fields. He later helped to build and manage the Diamond Lumber plywood plant in Tillamook, Ore., and later built the Edward Hines plywood plant in Hines, Ore. He also built and/or managed several other Western veneer and plywood plants.
For a brief time, he built and piloted boats for charter Marlin fishing in Kailua, Hawaii. His passion was cruising from the San Juan Islands to the northern end of Vancouver Island and all the scenic stops in between.
When not cruising on his boat he was building wood boats. He built more than 30 boats, sail and power, ranging from 10 to 50 ft. in length.
He also built custom furniture for his family members.
Knokey will be remembered for his commitment to family. He is survived by Marj, his wife of 64 years; children, Alan Knokey, MarJean Long, Judy Thompson; and several grandchildren and great-grandchildren.
He was a member of APA—The Engineered Wood Assn., EWTA (Engineered Wood Technology Assn.), and the Plywood Pioneers Assn.
Family and friends remembered Knokey at "Randy's Pier 61" in Anacortes on August 31.
Contributions may be made in his name at St. Jude's Children Hospital, 800-822-6344; reference tribute #34041742.