Foundation Feels Fields' Goodwill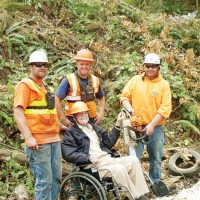 The Oregon Community Foundation announced a $150 million gift from the estate of Fred W. Fields, which will establish the Fred W. Fields Fund of The Oregon Community Foundation to support education and the arts.
It is the largest single gift ever made to OCF and one of the largest single gifts made to any community foundation in the country, according to OCF.
"OCF is honored to be the steward of a gift that will annually provide millions of dollars in support for essential education and arts programs in communities across the state," says Max Williams, OCF President and CEO. "It is really a gift to Oregon and will continue the generous spirit of giving personified by Fred and (his deceased spouse) Sue Fields."
Fields, the long-time owner of Coe Manufacturing, died last December 13 at age 88. He resided in Portland. Coe operated in Tigard, Ore. and Painesville, Oh.
"Fred loved business, he loved engineering and he loved Oregon. He was a generous person in his lifetime and wanted to establish this permanent fund to continue that support in perpetuity," says OCF Board Chair Eric Parsons.
Established in 1973 by Portland philanthropist William Swindells Sr., the Oregon Community Foundation was formed as a permanent endowment for community improvement efforts throughout the state. It is now the largest foundation in Oregon with $1.1 billion in assets.
When Fields died he left significant bequests to many of the organizations that he and his wife had donated to during their lifetimes, including Lewis & Clark College, Oregon Museum of Science and Industry, Portland Art Museum, Columbia River Maritime Museum and the Ronald McDonald House Charities of Oregon, to name a few.
Fields, who reportedly had never before given to the foundation and did not hint that such a landmark gift was coming before he died, left the bequest with wide-open instructions to the foundation: Use it to fund the arts and education in Oregon.
In early 2010 Fields released his autobiography, My Times With Coe: Free Enterprise At Its Finest, published by The Donnell Group and ghost-written by Panel World editor-in-chief Rich Donnell. Fields was raised on a farm in Alexandria, Ind. during the depression.