CalPlant I Regroups, Sale Is Possible
CalPlant I, LLC, which took 25 years to develop and build a rice straw-based medium density fiberboard plant and produce its first board late last year in Willows, Calif., has voluntarily filed for Chapter 11 bankruptcy protection and intends to conduct a court-supervised sale process.
The company has entered into a Plan Support Agreement (PSA) with its senior bondholders, which provides for a comprehensive financial restructuring of the company's debt and the investment resources to complete the commissioning of the manufacturing facility en route to the sale of the operation.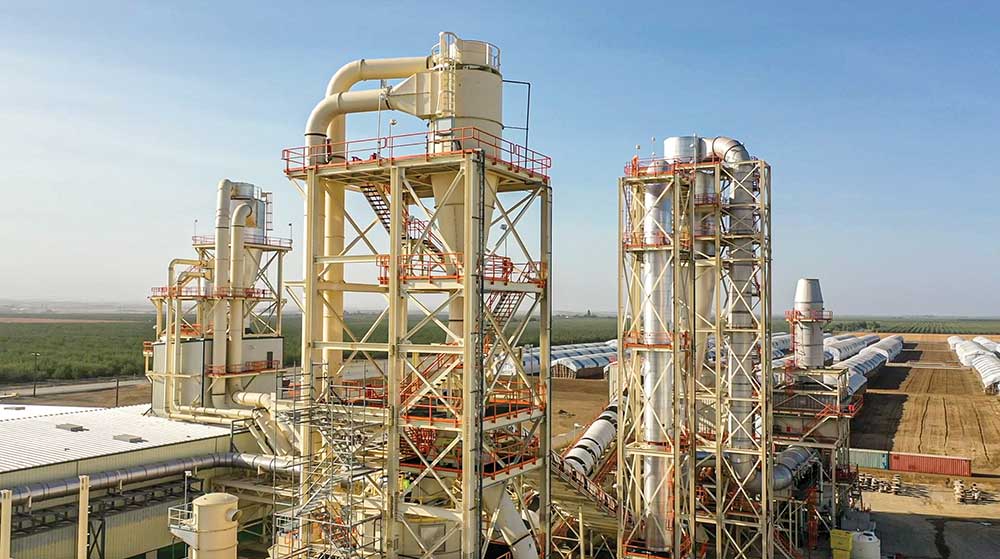 The company states it will continue to operate without disruption to its vendors, customers or employees, and will have sufficient liquidity to meet its financial obligations throughout the restructuring process.
Jeffrey Wagner, Cal­Plant Executive Chairman, comments, "The road to fully commissioning our plant has not been smooth. We started commissioning our facility in early March 2020, then the pandemic hit. Suddenly, the usual challenges and delays associated with a startup were compounded with navigating a startup using first-of-its-kind technology during a global pandemic. Still, our team remained dedicated, resilient and ready to pivot to continue our momentum towards completion."
CalPlant is located in the Sacramento Valley, an area estimated to have an annual quantity of more than 1.5 million tons in rice straw waste. Once operating at full capacity, the company expects to process around 280,000 tons of otherwise non-recyclable rice straw from its surrounding regions per year to produce 150MMSF of MDF product. The pioneering operation was founded upon eliminating the need for post-harvest flood­ing, thus reducing water usage and methane emissions, en route to becoming the world's first commercial-scale manufacturer of no-added-formaldehyde, rice straw-based MDF, a product line which it eventually started calling "Eureka."
"We are confident that leveraging the benefits of the Chapter 11 process will allow us to emerge with a stronger financial structure that enables us to continue leading the manufacturing industry with innovative sustainable MDF," Wagner adds.
The company states it has secured commitments for up to $30.1 million in Debtor-in-Possession (DIP) financing from certain of the company's senior bondholders to support the business during the Chapter 11 process. Subject to court approval, CalPlant estimates that substantially all trade vendors who will have an ongoing business relationship with the company will be paid for goods and services in the normal course of business without interruption.
CalPlant expects that the deadline to submit qualified binding bids will be established at a later date pursuant to bidding and sale procedures to be approved by the court.
CalPlant and its predecessor company, CalAg, LLC, spent many years and millions of dollars researching, developing and patenting a process to make high-quality MDF using annually renewable rice straw as the feedstock, the disposal of which had posed environmental issues in California for decades. The post-harvest rice straw was burned at a nominal cost to farmers until California banned the burning due to air quality concerns, leading to greater expense for farmers to dispose of the straw.
CalPlant secured it raw material needs by executing long-term fixed price rice straw supply contracts.
The project went through a series of unsuccessful efforts to pull together funding, and then in June 2017 closed the deal with $92 million in equity from a small consortium of investors and $225 million in tax-exempt bonds issued via the California Pollution Control Financing Authority and subsequently sold to qualified institutional investors.
Following a separation with the initial general contractor, CalPlant began coordinating with machinery manufacturer Siempelkamp to complete construction of the plant, including the installation of a ContiRoll continuous press 10 ft. x 117 ft. However, in addition to scheduling issues caused by the pandemic, the plant ran into issues in the refiner system, according to a bankruptcy declaration by the company. The mill reportedly continues to wrestle with some front end issues but the remainder of the plant is reportedly running well, while areas of operation continue to be optimized or modified. "Plant acceptance" may be achiev­ed early next year, but full operating capacity is not anticipated for a while.
A source close to the operation reports the mill produced 3MMSF (3⁄4 in. basis) in September but struggled with uptime, averaging 40-45%. As of early October it had 700 truckloads in the market and the board is said to be performing well in the applications in which it is being used. Reaching 8MMSF month­ly at year end is a possibility and could entice an investor or industry company to come in and ramp it up to its full potential. The inventory of straw on the yard is said to be substantial.
A May monthly bondholder report pointed to lack of available liquidity and increased expenses such as with MDI re­sin. The project had taken on additional funding beyond the original financing. Reports of non-payment of scheduled interest began surfacing late last year.
RELATED ARTICLES
CALPLANT I GEARS UP FOR FIRST BOARD
CALPLANT I NEARS THE FINISH (OR STARTING) LINE
BID Group and Biomass Engineering & Equipment (BE&E) announced a strategic supply and outsourcing partnership, in which BE&E will acquire the Vibrapro brand and manufacturing operations located in Boise, Id., and the BID Group fabrication plant in Greenville, Ky…
The monthly Panel World Industry Newsletter reaches over 3,000 who represent primary panel production operations.
Panel World is delivered six times per year to North American and international professionals, who represent primary panel production operations. Subscriptions are FREE to qualified individuals.
Complete the online form so we can direct you to the appropriate Sales Representative. Contact us today!