Bud Calvert Dies At 97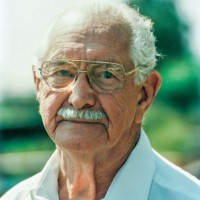 Harry (Bud) Calvert, a major participant in the plywood industry and principal of Calvert Manufacturing, died May 20. Calvert, a longtime resident of Oak Hill, Fla., was 97.
Calvert was born in Wantagh, NY in 1914. He studied aeronautical engineering at Tri-State College in Angola, Ind., and then worked for GMC Truck in Pontiac, Mich. In 1936, he entered the Boeing School of Aeronautics in Oakland, Calif. and until the end of World War II he worked for Boeing Aircraft in Seattle, Wash.; American Central Manufacturing in Connersville, Ind.; and Consolidated Vultee Aircraft at Allentown, Pa. and Fort Worth, Tex. His responsibilities ranged from student-riveter to inspection supervisor on the B-17 Flying Fortress, to chief inspector on the Dive Bomber and B24 Liberator components, to sheet metal foreman and assistant superintendent on the TBY Torpedo Bomber to engineering salvage supervisor and inspector on the B-36 prototype.
In 1946 Calvert moved to Boring, Ore. and started Calvert Machine Service as a one-man machine and welding shop, working mostly in the sawmill trade. He bought Preston Woodworking Machinery of Preston, Ontario in 1958. Preston was a full dealership for Coe Manufacturing.
In 1962, Calvert became a consultant in development and troubleshooting for Coe worldwide, and spent six months in residence at the new U.S. Plywood-Temple Industries mill in Diboll, Tex. Calvert designed a hydraulic servo operated backup roll for the mill.
Calvert left Coe and in 1975 moved to Longwood, Fla. and started Calvert Manufacturing as a job shop, which expanded into specialty replacement and upgrading of machines common to southern pine plywood production such as chargers, carriage elements and other lathe parts. Calvert also developed new technologies such as wide contact backup rolls, knife edge roundup sensing technology and floating pressure bar technology.
Calvert was known as a free spirit and led an adventurous life. He made his first attempt at hang gliding at Kitty Hawk on his 80th birthday. He had a lifelong passion for flying and a great love of nature and animals.