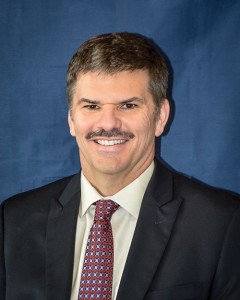 EDITOR'S NOTE: Grady Mulbery is vice president, manufacturing, at Oregon-based Roseburg. He oversees all manufacturing facilities throughout the company. Mulbery began his career as a facility manager for Willamette Industries at the Eugene, Ore. MDF facility. He held various management positions at Weyerhaeuser Company from 2002-2007 and was director of operations at SierraPine. He joined Roseburg as vice president of composites manufacturing in 2011. He currently serves as chairman of the Composite Panel Assn.
PW: Your veneer facility at Weed, Calif. sustained a fire last September 15, but it's our understanding the company and the community rallied quickly and that the mill is running again.
Mulbery: That was a great company success story. It was handled well by all different functions within the company especially the people at Weed. We were able to meet our veneer needs and our customers' needs by moving some people from California up here (to Oregon) to run some lathes that were down to maintain internal veneer supply. We got the Weed facility up and running in three weeks, with the exception of the cogeneration facility, which will be on line in March. This has been a great reflection of the company and the culture of the company.
PW: What's the status and pace of your operations in general coming out of the recession?
Mulbery: For most of our segments it's been fairly steady in 2013 and 2014. The big move up happened in the latter part of 2012. Engineered wood continues to be the strongest segment. There tends to be more demand there. The repair and remodel segment has helped us. We've been able to run the operations at reasonable capacity. The toughest segment has been particleboard. That's had the slowest recovery.
PW: Have you done much project upgrade at your plants?
Mulbery: We've started doing projects in the last 18 months, more so than in the past five years. A lot of that is deferred maintenance. Some major projects include some upgrades to our primary breakdown system at the stud mill, an upgrade of our Missoula (Mont.) particleboard plant, where we replaced an old forming line with an existing forming line we had at a facility that we had shut down. We're in the middle of some automation projects in our plywood group but most them are still several months away from being operable.
PW: What's the status of the robotics technology that you implemented in certain areas of your operation?
Mulbery: We have several. We utilize them. They still have their function. We continue to work on how to utilize them more efficiently and look at other things we can do with them. But yes we continue to utilize them.
PW: How does Roseburg approach new product development?
Mulbery: Fundamentally we're trying to keep things as simple as we can. We try to exploit what we do well. If certain things come along that make sense, something we can adopt from a current product line, we take a look at that in conjunction with sales and technical people and evaluate if that makes sense. Can we make money at it? Is there enough market share? Can we scale it up? Is there anything to work with, operating off our platform, or what does it take to adjust our platform to be able to do something like that? So it's really a collaborative effort, but we look at it as how can it add value to what we do, knowing what our core business is. We really work hard to try to keep things simple. We have an integrated model which is complex enough.
PW: Roseburg has at times been aggressive with enhancing the culture of the company, while implementing business models such as Lean, performance metrics, team collaboration. What's required at the manufacturing level for those things to evolve like they should?
Mulbery: It takes strong plant managers and strong leadership at the sites. We've continued down those tracks. We've modified certain things. Our focus has been to do the basics well, fundamentally understand the gaps and what we have to do to close them and make sure we have the right people in place with the right tools to make it happen. It's a continuous work and process to get better. As a former mentor of mine used to say, "you never arrive." You're always trying to come up with the next best approach, but we really work hard at empowering our leadership to understand what we need them to go after.
Over the last couple of years we've embarked on a team-based collaborative management style. We've implemented that within the different businesses and now we're at the stage where we're starting to implement it in some of our operations. It's having your team leadership commit to directions and decisions and everybody getting on the same page. You have the disagreements behind closed doors, and then once you get a commitment go do it. That's been a real focus for us as a company and that transcends into the manufacturing side.
Also we're putting a whole lot more emphasis on safety performance. Not just going out and trying to hit a number, but making sure we have the right resources, the right tools, and people understanding culturally we need them to work safe, we want them to work safe, so we've made a strong effort over the last 18 months to get that message out and make those changes.
PW: How does Roseburg approach finding high quality personnel?
Mulbery: During that four- or five-year swoon a lot of the talent in our industry left or retired from it. As we look forward, we recruit and hire the best talent we can, but we also embark heavily on internally developing people. Fundamentally we've started doing several different things to develop younger people over time. That's been a real concerted effort. Especially as you look long-term, we've just got to develop our own.
PW: How does Roseburg maintain leadership positions in so many product segments?
Mulbery: We've got an integrated model. We've got internal log supply and our goal is to add value to that. We have a higher margin product portfolio for the most part and we try and spend our energy there.
In everything we do, we strive to be a top quartile performer—making sure that our (manufacturing) operations are as competitive as possible. How can we automate things, how can we get more efficient? What type of projects can we look at that can really advance us, realizing that we're competing globally with several of our segments? Additionally, with the currency dynamics, that pressure is only increasing.
PW: What is your perception of today's particleboard industry? Any product trends developing?
Mulbery: It's been the slowest segment to recover since the great recession. It's still a very tough business. There's plenty of supply. But it has gotten better since the bottom of the downturn. It's a large portfolio business for us. We have a tremendous amount of melamine capacity that goes with it. We have very strong positions in both PB and melamine in North America. We restructured back in 2011 and 2012 and we believe the segment will continue to get better and we're positioned to do well in it.
Regarding product trends, there continues to be slow movement toward lighter weight products. This is one trend that I think will continue and likely accelerate given the continuing shift in furniture markets to lighter weight products. Additionally, freight continues to be such a large part of the delivered cost to a customer.
PW: Are you optimistic about your engineered wood products business?
Mulbery: Everybody is optimistic that it still has a long term upside. It's continues to have fairly good growth coming out of this downturn. It continues to have good growth numbers relative to other product segments. We've done some internal automation projects for efficiencies that will benefit us as we go forward.
PW: Does Roseburg have an interest in cross laminated timber?
Mulbery: We're not active in the segment. We monitor it and pay attention to what's going on there. It will be interesting to see how well it gets off the ground and what it turns in to. We're of the opinion that time will tell. PW