Alex Hunt, Jr. Led Family Business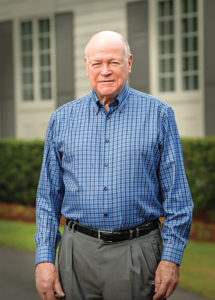 Alexander (Alex) Trotter Hunt, Jr., who began his wood products career working for the family's lumber business in Louisiana, oversaw Willamette's sawmill, plywood and timberlands operations in the South, and in 1977 partnered in the startup of H&C Veneer and later formed Hunt Plywood and Hunt Forest Products, died November 17 in his native Ruston, La. He was 90.
Hunt was a high school football star and went on to play linebacker at Georgia Tech under head coach Bobby Dodd, including on the 1952 12-0 Georgia Tech national championship team, which beat Ole Miss in the Sugar Bowl. He also played for the 1951 undefeated, once-tied Tech team that is also recognized in some outlets as the national champion.
Hunt graduated from Tech in industrial management, married Laura James in 1953 and served in the Army during the Korean War. He returned to Ruston to work for the family lumber business, Hunt Lumber. He represented the third generation of Hunt lumbermen in Louisiana.
The company entered the plywood business in 1965 through a partnership with Continental Can and the construction of a plywood plant, known as Louisiana Plywood, which started up in 1966, located near the Hunt Lumber sawmill north of Dodson, La. When Continental Can sold its interests to Willamette Industries, the Hunts and Willamette began a profitable partnership, including additional plywood plants and the operation of a particleboard plant in Simsboro, La. The Hunts sold their interests to Willamette in 1972.
Hunt served as vice-president of Willamette's Southern Building Materials Group for several years before venturing out to partner in H&C Veneer, which constructed a veneer and plywood mill in Pollock.
Hunt's two sons would join him in the business and be major contributors to the expansion of the company with an additional plywood operation at Natalbany and hardwood and softwood sawmills and chipping operations.
"I learned that you have to have good people—in your woodlands and in your plants. That is the key to whether you stay in business or not," Hunt once said, adding, "We always shipped a quality product."
Before his death, the company built and started up a new southern yellow pine sawmill in Urania, La.
Hunt and Laura had two sons, Alexander Trotter Hunt, III, and James Davis Hunt. Laura Hunt died in 1992. Hunt married Sallie Shafto who died in 2008, and in 2009 he married Willie Heard Sherrouse.
He was preceded in death by his parents, Alexander and Alverne Davis Hunt, brothers Davis Hunt and Tommy Hunt. He is survived by his wife and his two sons and their wives and extended families, including 10 grandchildren and 25 great grandchildren.
Hunt was a member of the First Presbyterian Church in Ruston serving as a former elder, was a former board member at Lincoln General Hospital and First National Bank of Ruston. He was an avid outdoorsman and enjoyed hunting, fishing and playing golf. He always maintained a passion for Georgia Tech football and supported his alma mater his entire life.
A graveside service was held November 20 at Forest Lawn Cemetery in Ruston.
RELATED ARTICLES
Alan Douglas Brett, who in the latter half of his career led the international advertising sales growth of Panel World magazine, and whose vigorous life included professional motor cycle speedway racing as a young man and a long stint as sales manager with the Daily Telegraph in London, died January…
U.S. housing starts (combined single-family and multi-family) showed a slight decline in November, coming in at a seasonally adjusted rate of 1.427 million, 0.5% below October, and 16.4% below starts in November 2021, according to the U.S. Census Bureau and U.S. Dept. of Housing…
To better address its operational and strategic development plans, Raute is changing its organizational structure, which will strengthen Raute's ability to service customers and streamlines internal operations. The change will also be reflected in the…
The monthly Panel World Industry Newsletter reaches over 3,000 who represent primary panel production operations.
Panel World is delivered six times per year to North American and international professionals, who represent primary panel production operations. Subscriptions are FREE to qualified individuals.
Complete the online form so we can direct you to the appropriate Sales Representative. Contact us today!