After All These Years GP Still Knows Plywood
Article by Rich Donnell, Editor-in-Chief, Panel World March 2019
Our friends Dick Baldwin and Rich Baldwin write about the North America softwood plywood industry in this issue. They note that about 28 plywood mills disappeared since pre-recession or basically in the past dozen years, leaving 58 or so in operation. They note that Boise Cascade and Georgia-Pacific have the two largest softwood plywood capacities in North America. But things happen quickly in the plywood industry, and I believe it has been since they wrote the article that Georgia-Pacific closed its plywood mill in Warm Springs, Ga. and Boise Cascade sold its mill in Moncure, NC.
Upon hearing that GP had closed Warm Springs, the editors at Panel World began guessing how many softwood plywood mills GP has left. How many do you think? Here's a hint: They are all southern pine plywood mills. Here's another hint: The list doesn't include GP's original plywood mill site in Fordyce, Ark., which started up in 1964 and was recognized as one of the first three southern pine plywood mills to start up that year (along with Kirby's mill at Silsbee, Texas and Temple's mill at Diboll, Texas). Neither GP's mill at Fordyce or its mill at Crossett, Ark., which started up in 1965, made it out of the recession.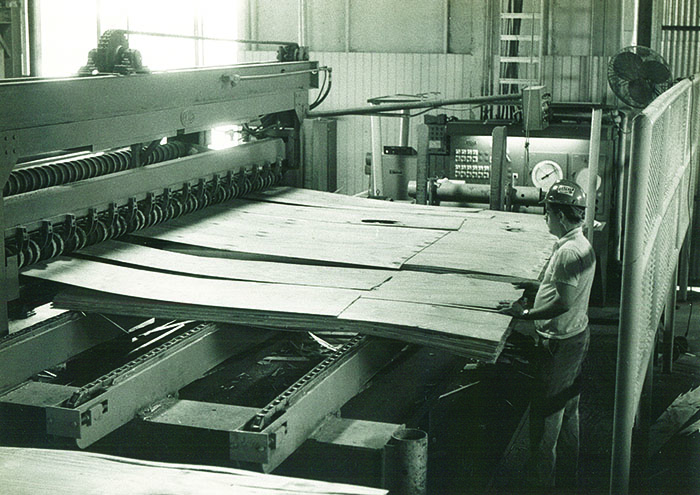 Our best educated guess is that GP's oldest softwood plywood mill site still in operation is at Emporia, Va. GP started it up in 1966. We think the next oldest GP site still going is Taylorsville, Miss., which started up in 1969. Third oldest GP site still producing plywood? Perhaps it's Prosperity, SC, which began production in 1975.
So that's three GP plywood mills still ticking. But there's more. As best as we can tell, GP still has eight softwood plywood plants in operation. In addition to Emporia, Taylorsville and Prosperity, there's Dudley, NC, which GP started up in 1980; and plants in Corrigan, Texas; Camden, Texas; Madison, Ga.; and Gurdon, Ark., none of which, we think, GP actually started up but rather purchased.
GP started up the recently closed Warm Springs mill in 1974. The next year GP started up a mill in Talladega, Ala., which GP idled during the recession, then closed in 2016. But the Talladega site has had a resurgence. After the site sat motionless for 10 years, GP has recently started up a new sawmill there, and in fact was able to restore a couple of the barrel buildings that housed the plywood mill. I visited the sawmill in January, and a local at a nearby convenience store told me they were never so glad as when the log trucks started rolling again.
Of course it's easy for us to toss around mill statistics, but rest assured we're very sympathetic to the fact that each time one of these mills closes it's a major life altering episode for the workers and their families. Unfortunately, mill closures has become a fact of life in the plywood industry, but there are signs that this segment is stabilizing, and in fact new plywood mill production has even come on in the past couple of years.
RELATED ARTICLES
BOISE CASCADE OPERATION AT ELGIN IS UP IN AIR
RoyOMartin has announced a new production line for its Eclipse-branded OSB radiant barrier product at the Corrigan, Tex. facility. The Globe Machine Manufacturing Co. line, which will be…
The monthly Panel World Industry Newsletter reaches over 3,000 who represent primary panel production operations.
Panel World is delivered six times per year to North American and international professionals, who represent primary panel production operations. Subscriptions are FREE to qualified individuals.
Complete the online form so we can direct you to the appropriate Sales Representative. Contact us today!